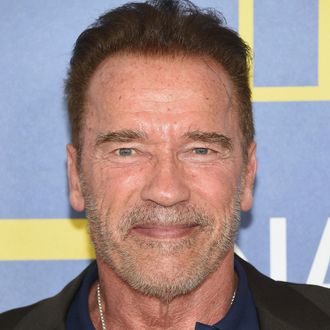 Arnold.
Photo: Michael Loccisano/Getty Images
Get ready for a tweet storm, people who still follow Donald Trump: Arnold Schwarzenegger is leaving NBC's Celebrity Apprentice, and he's blaming it on Donald Trump's affiliation with the show. "I loved every second of working with NBC and Mark Burnett," Schwarzenegger said in a statement. "Everyone — from the celebrities to the crew to the marketing department — was a straight 10, and I would absolutely work with all of them again on a show that doesn't have this baggage." Schwarzenegger took over hosting duties from Trump, only to discover that the now commander in chief still had an executive producer credit on the show — a revelation that he says caused advertisers and viewers to flee in droves.
The official news comes after Schwarzenegger expressed a similar sentiment to Empire magazine, saying that if he were to do it all over again, he wouldn't have taken the job as host of the Celebrity Apprentice. "With Trump being involved in the show people have a bad taste and don't want to participate as a spectator or as a sponsor or in any other way support the show," he said. "It's a very divisive period now and I think this show got caught up in all that division." This is just the latest development in the ongoing feud between Trump and Schwarzenegger, which has seen the two showbiz personalities turned politicians spar over Schwarzenegger's ratings on Celebrity Apprentice ("So much for being a movie star," Trump said). Now that Schwarzenegger is no longer attached to the show and Trump is in the Oval Office, the future of Celebrity Apprentice is unclear — the show has not yet been renewed.