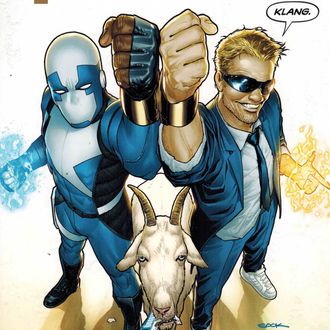 Quantum and Woody, as they appear in comics.
Photo: Valiant
As we approach the resource crisis of Peak Superhero, studios and production companies are in a mad dash to snap up whatever superhero properties aren't owned by Marvel Comics (the home of Spider-Man) and DC Comics (dwelling place of Batman). It appears that one such property is being developed for TV by Captain America: Civil War directors (and Emmy winners for their work on Community) Joe and Anthony Russo: Valiant Comics' Quantum and Woody. The Wrap had the scoop.
They're a critically acclaimed and delightfully idiosyncratic concept, co-created in the '90s by writer Christopher Priest and artist M.D. Bright. Their adventures are a riff on The Defiant Ones, one in which two mismatched men — a nobly responsible black man named Eric and a wildly irresponsible white one named Woody — find themselves linked by powerful bracelets that grant superpowers but also require the wearers to "klang" them together at regular intervals. They also have a goat. It's a germane concept for rich action-comedy, and, appropriately, Ant-Man producers Andrew Barrer and Gabriel Ferrari are also attached. No word on who's playing Quantum, Woody, or the goat.