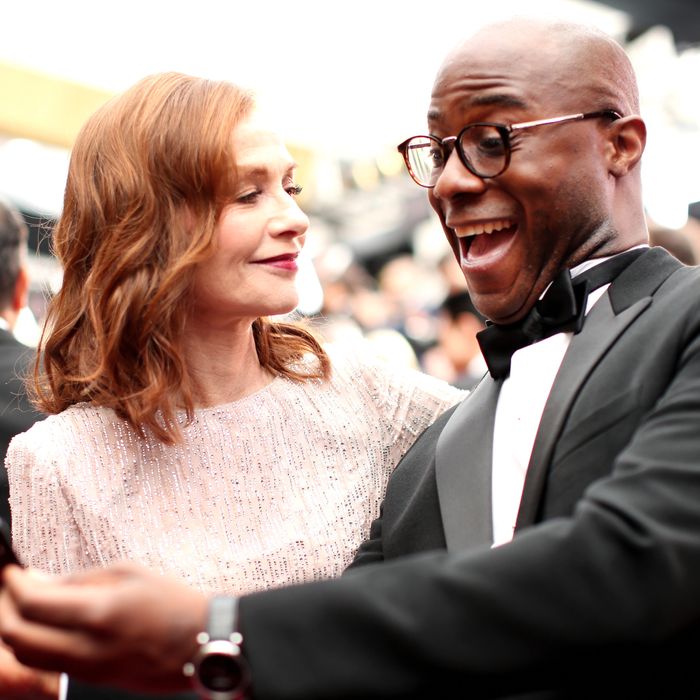 Huppert/Jenkins 2020.
Photo: Christopher Polk/Getty Images
On this day 64 years ago, Elle actress Isabelle Huppert was born. And somewhere between March 16, 1953 and March 16, 2017, it has become overwhelmingly clear that she and Moonlight director Barry Jenkins are destined to make a movie together. Jenkins's affection for Huppert's work is well-documented: Every few weeks during the awards-season campaign for his Best Picture winner, he'd praise Huppert's work in Elle or post an old photo of her on his Instagram. More than once, she reciprocated the admiration. See that photo of them above, where they were caught taking a selfie on the Oscars red carpet? That's not a look of love, it's a look of "I'm ready for my close up, Mr. Jenkins" or even "Can we call HBO or A24 for some cash to make this happen?" This duo has teased their friendship long enough. And so, in honor of Huppert's birthday and Jenkins's early morning Instagram celebration of this holy day, we give you Barry Jenkins and Isabelle Huppert's tale of mutual affection. The heart wants what it wants, and our hearts humbly request a movie from the two of them.
Barry Jenkins and Isabelle Huppert are friends IRL. He doesn't even have to seek out cutesy Instagrams like this. Totally unstaged moments of Huppert-fanning just fall into his lap. Their collaboration is simply what nature intends.
Damien Chazelle has an Oscar. What he doesn't have is a clue that he's the Jenkins-Huppert third wheel.
As if all the Instagrams were not enough, Jenkins even finds a way to sneak in some Huppert praise while discussing his own work. Per the Irish Times:
"I was looking for a combination of masculinity and vulnerability," he says. "It needed to be concurrent and in opposition. Rhodes – as the adult Chiron – offers the most crystalised version of it. I wanted performers who could emote without speaking. I'm a big fan of French actresses like Isabelle Huppert and Valeria Bruni Tedeschi, who can do so much with just silence."
Think about what Huppert could do with silence in a Barry Jenkins production. The mind reels.
Here's what we're not gonna do: We're not just going to call this a love story (Huppert, by the way, is married). We're requesting a partnership more in the vein of Scorsese–De Niro, Pedro Almodóvar–Penélope Cruz, or Paul Thomas Anderson–Philip Seymour Hoffman. We need them to make a movie together just to keep the Earth spinning on its axis.
Barry Jenkins: "It's always a proper time to salute the queen."
Us, a group of intellectuals: "Yes, and it's also always a proper time for you to start preproduction on the movie that wins you both Oscars."