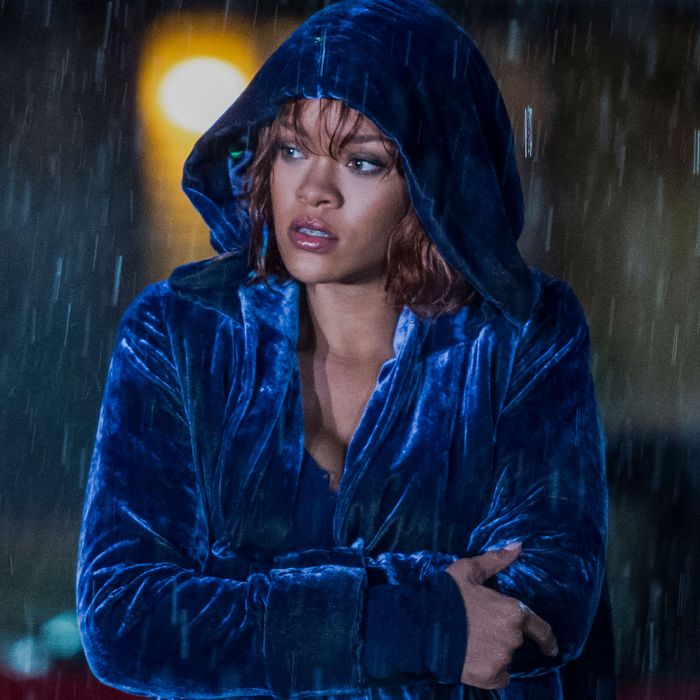 Rihanna as Marion Crane.
Photo: Cate Cameron/A&E Networks LLC
Few scenes in the history of film are as iconic as Norman Bates stabbing Janet Leigh to death in the shower. To audiences today, that famous scene in Alfred Hitchcock's Psycho may seem somewhat standard, but it's hard to overstate how shocking it was to audiences in 1960. Not only was it unheard of to kill off your protagonist halfway through a film, but the decision to do so essentially changed the way we watch movies, with Hitchcock himself encouraging viewers to watch the film from the very beginning or risk ruining the experience. When it became clear that A&E's Bates Motel was hurtling toward the same historic moment in its final season, fans started to wonder: Would the show subvert the shower scene, or fall under the weight of Psycho's legacy?
It turns out that series co-creators Kerry Ehrin and Carlton Cuse had a few surprises up their sleeves, playing with audience expectations and even transposing gender roles in a powerful way. In 2017, Marion Crane isn't killed by a hormone-fueled Norman Bates. In fact, she's empowered enough to get away with her crime, not karmicly punished for it like in the original film. It makes sense that the crime that would demand punishment in this iteration of Norman Bates's world is infidelity, and so it is not Marion who lays dead-eyed on the bathroom floor at the end of this episode, but Sam Loomis, the cheating cad for whom she ended up in White Pine Bay in the first place.
For the majority of "Marion," the team behind Bates Motel works masterfully with tension, from the minute we see Marion Crane (Rihanna) knock on Norman's (Freddie Highmore) door. It's pouring and he's kind to Marion, giving her a room for only $60 — a funny touch given all those complaints about the $120 rate given to Sam a few episodes ago. He apparently had the Asshole Rate. Or she has the Rihanna Discount. Either way, Norman gives her Room No. 1, right next to the office. They chitchat as he leads her to her room. She wants a bite to eat, but there's nothing open in the middle of the night. We get a quick shot of the shower, and Norman offers to bring down a ham sandwich. Marion smiles and laughs at his folksiness. He can be almost adorable when he's not homicidal. Speaking of that, Norman spies his mother (Vera Farmiga) in the window of the house, looking down on them.
What's most interesting about the timing of Marion's arrival in the arc of the series is that it comes as Norman realizes the scope of his psychoses. He says to his mother, "I'm insane," and he acknowledges that she is dead. He even understands that "Norma" has appeared to him because he's sexually attracted to Marion. This is Norman at his most self-aware, almost as if he can control his homicidal impulses and keep his mother at bay.
The truth about Norma is about to come crashing down on Dylan (Max Thieriot). Emma (Olivia Cooke) is reading about her "suicide" when he comes back from his walk. She shows him the story, and tries to comfort him as best she can. It's an emotional moment, well-directed and well-performed, and it fits thematically. Dylan is discovering Norma is dead at the same time that Norman is coming to terms with her death as well.
Meanwhile, Norman and Marion are sharing that ham sandwich, and director Phil Abraham plays with the iconic taxidermy shots from Hitchcock's film. Rihanna is just great here. The jury was still out after last week's episode because it was so plot-centric, but she has fascinating chemistry with Highmore, allowing for wonderful echoes of the movie. The visuals here also callback to Psycho without mimicking, including the low shots of the stuffed birds and the imposing house in the distance. The dialogue is crisp, especially lines like, "It's hard to be lonely, but it's also hard to love people. I think that's the trap."
Meanwhile, the house of cards that Sam Loomis (Austin Nichols) set up over the last few months is about to come crashing down on him. First, Marion calls Sam, who is a bad liar. Norman soon puts everything together, spying on Marion through the peephole and learning that she's with Sam. He keeps spying as she starts the shower and takes off her shirt. His breathing gets heavy. Marion gets in the shower and reaches for the soap. It isn't direct shots from the film, but similar. She hears sounds, but we don't see the door open. The shot reverses and we see her shadow through the curtain. Is Norman in the room? She opens the curtain. No one is there. It's a fake-out. She won't die. At least not yet.
Marion wants to see the registry, telling Norman that she was there with her boyfriend, Sam Loomis. She wants his address from the registry. It's not there, but Norman knows where he lives … because he knows Sam's wife. Marion is crushed. She had no idea Sam was married. She refuses to believe it. Rihanna has great delivery on the line, "I'm not stupid," as Marion tries to convince herself it can't be true. She gets to his house and sees him fighting with Madeleine through the window. She's heartbroken and decides to take it out on his car with a crowbar. After she drives out, Madeleine locks Sam out of the house. He'll need a place to stay tonight. And we all know the only motel in town.
Norman gets his first call from Dylan since he left. Dylan doubts the official story that Norma killed herself and yells at his brother, instigating the arrival of "Norma" even more. When Norman tries to deny her existence, she fights back, smashing up the kitchen and grabbing his face until he yells in defeat, "You're real! You're real!" Norma says she's there to take care of him, but the shot of Norman in a kitchen he smashed up himself is one of the series' best. As is the line, "Why do I feel so horrible, mother?"
Marion feels horrible too. She's angry and sad. She's checking out of the Bates Motel, but can't go home, putting her head on Norman's shoulder in an honestly touching moment. He tells her to go, in part for her own safety. He tells her to get away and get rid of anything that could be used to follow her. She drives off into the sunrise, throwing her phone out the window as she goes, likely never to be seen again. Bates Motel lets Marion Crane live. But that doesn't mean anyone else is safe.
Although Norma is mad that Norman let Marion get away, there's a new tenant about to check in — Sam Loomis. Before the bloody finale, "Norma" breaks a few things down for Norman. "We are two parts of the same person," she says. "Both are very real." She confronts him with the truth about his childhood: He couldn't protect his mother from his abusive father. That's what broke him. Now, "she" stops him from feeling that pain. And she basically talks him into killing Sam. There's a stunning shot of Norma's head half-hidden behind Norman's face, as if they share one body. Norman marches down, tears the curtain aside, and stabs Sam Loomis to death. Blood sprays everywhere as Roy Orbison's timeless "Crying" crescendos in the background. We get the curtain pull from the movie and the unblinking eye of the victim on the floor, but not the dissolve to the drain. But we do get a variation on the line as Norman pants, "Oh, mother, what have I done?"
Other Notes
• Attention Bates Motel producers and Emmy voters, this is the episode for Freddie Highmore. It should be the one he submits and it should be the one to get him his first nomination.
• How did you feel about Marion only lasting two episodes? She arrived just as Norman was learning to control his homicidal side — and her arrival led to Sam's death, which could be his undoing.
• Bates Motel is almost over and the paths of destruction for Norman Bates are lining up. Will it be Romero, out for vengeance? The police, looking for Sam Loomis's killer? Dylan? Or could Norman escape the series uncaptured and unkilled?