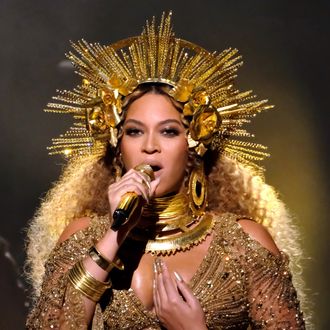 Beyoncé
Photo: Larry Busacca/Getty Images for NARAS
As women across Hollywood show support for A Day Without a Woman, a group of celebrities including Beyoncé, Salma Hayek, Julia Roberts, and Madonna are honoring International Women's Day by putting their names to an open letter advocating for gender equality. The letter is published by Chime for Change, a campaign that Beyoncé and Hayek co-founded to "convene, unite and strengthen the voices speaking out for girls and women around the world." The letter — also signed by Dakota Johnson, Jada Pinkett Smith, John Legend, Hari Nef, and Freida Pinto — describes the current moment as "a critical moment in history. Recent legislation and rhetoric have put decades of progress for girls and women at risk." It continues to describe the present mission for women as follows:
This is about hearing a call - to join us wherever you are. About raising an alarm - drawing attention where there is work to be done. And about celebrating - those who are already showing us, against impossible odds, what is possible.

We believe that connection empowers us. That every voice matters. That each one of us is needed to achieve change. We believe we can do extraordinary things when we come together.

We fight for education. For health. For justice. For every girl. Every woman. Everywhere. We fight for our future. Because none of us can move forward if half of us are held back.


Read the call to action in full here.