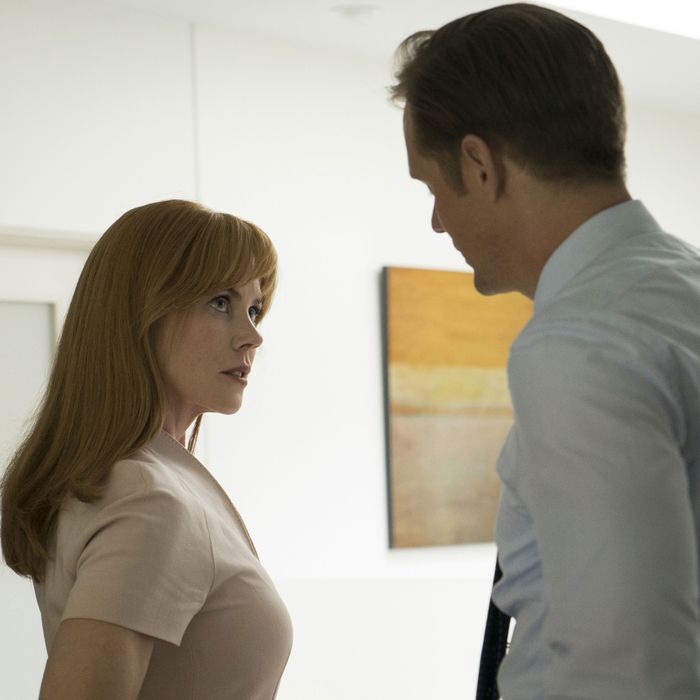 Nicole Kidman and Alexander Skarsgård in Big Little Lies.
Photo: HBO
Nicole Kidman is having a hard time shaking her Big Little Lies character. Nine months after production ended, the Oscar winner and first-time TV star's voice quavers when discussing the filming of Celeste's violent and highly sexual marriage to Perry (Alexander Skarsgård). "I feel weird talking about it," she says over the phone from the Philadelphia set of Untouchable. "I'm not comfortable because I feel like I want the work to speak for itself, and I don't like dissecting it too much. It's one of the hardest roles I've had to talk about because I'm still very raw about it. It's weird."
Not when you consider the intensity of Celeste and Perry's story line. From controlling Celeste's schedule to pushing her around, grabbing her forcefully, and beating her, Perry is a classic abuser. And yet Celeste is, on some level, addicted to her husband's rage and the sexual energy it unleashes between them, adding gray areas to an alarming domestic situation not usually examined in this way on television.
"The intention was to see how complex it is: to show how people lie about it, what it feels to go through it, and how painful it can be for the woman, who is the victim in this case," Big Little Lies director Jean-Marc Vallée said. "But [writer David E. Kelley] and I and all of our partners thought, Well, what if we try to care for this guy too? He is the perpetrator of the violence, but he is aware of it and sincerely wants to get rid of his demons. That's why I think you wonder and go, My God, I see. I see. There's a little spark of hope here and there. I wanted to try to touch people's hearts."
In this past Sunday night's episode, "Once Bitten," Perry attacks Celeste after he sees their kids' toys strewn around their apartment. He beats her, almost suffocates her, then has sex with her, most of which the viewer learns as Celeste remembers it. "After we shot some of the really, really violent scenes, I was in a lot of pain myself. My body was," recalls Kidman, who's also an executive producer on the series. Except for one scene in the finale, which airs April 2, where a body double was used to help choreograph a fight, Kidman and Skarsgård filmed all of the violence themselves. "It was very strange. It wasn't a good feeling," she says. "But women go through this so I wanted to tap into the truth of it, and I wanted it to be as real as it could be. Afterwards I would just be quiet. I would go home and be quiet."
Vallée purposefully let the violent scenes linger. "I wanted it to feel like, whoa, you don't belong there," he said. "You're witnessing something that is hurting you and is tough. We rarely cut because I want to show what's great about the storytelling and the acting."
Celeste and Perry's explosive marriage originated in Liane Moriarty's best seller of the same name. Kelley, who adapted the novel for HBO, said he can relate to Kidman's discomfort because he found it equally difficult to write those scenes. "My process is that I go into that world, so I'm in that room when things are going on in my mind," he said. "Jean-Marc and I did a lot of research, as did Nicole. We knew this was delicate material, and we wanted to treat it with the seriousness and the responsibility that it merited. But there's no question, when you're in that place, mentally, disturbing is the operative word."
Exploring domestic violence through the lens of a gorgeous, upper-class couple was also an atypical way of approaching the story. "Most often, depictions of abuse go to situations that are rough-and-tumble and treat the abuse as if it's just endemic to that way of life — like, that guy hits his wife because he never had anything," says Robin Weigert, who plays therapist Dr. Amanda Reisman. "So right from the get-go, the idea that this level of abuse could exist within such a totally bucolic setting — that's novel in terms of depictions I've seen. The way Nicole is playing the character, when she's out in public, there's this veil of sadness or mystery that other people might read as part of her mystique. You don't realize what pain is there. The idea that somebody can be so visible, and so the object of envy and harbor secrets like this, is important. It gives us a way to recognize the potential for this to be anywhere."
Kelley gave the couple's narrative an added dimension by expanding the role of Dr. Reisman. At first, the couple goes together, but Celeste continues the meetings in secret by herself. In "Once Bitten," Dr. Reisman finally cuts through Celeste's denial with three syllables: "He hurts you." Later in the session, she pushes further and coaxes Celeste to admit she is sometimes afraid for her life, which Kidman acknowledges wordlessly.
"Those scenes were long on the page, and people weren't moving," Kelley says. "It was so internal — I remember seeing the dailies and I was so stunned by Nicole's work in those scenes. I know I had written the words on the page, and a lot of them are in the book, but when I watched the dailies, I was holding my breath: What's going to happen now? The fear, the ambiguity, the clinging to hope, that was all on her face."
Kidman and Reese Witherspoon, who have separately spearheaded female-driven projects through their respective production companies, had been looking to work together when mutual friend Bruna Papandrea, an executive producer on the series, brought up optioning Big Little Lies. They loved the idea, and soon Kidman was meeting with Moriarty in Australia. It was the author who asked that Witherspoon play Madeline and Kidman take on Celeste.
"I suppose Celeste was the most natural fit for me," Kidman says. "She has that particular way of being which is very quiet and watchful, and she's more of a voyeur when she's out in public. She can't really have deep intimacy with anybody because of what's going on at home, and she knows it. But one thing that was very important to Liane is that Celeste fights back. It's a very important part of her nature, and it's a huge part of her guilt."
When it came to casting for Perry, Kidman said Skarsgård was her first choice. "I wanted him badly!" she laughs. "I was like come on please, HBO, please! They had a relationship with him already [working on True Blood]. He has the ability to hold you and pull you in, but he also breaks down. He has that fragility as well as the dominance." Besides, Kidman added, Skarsgård had something else that made him more appealing than other actors. "He is obviously very tall which is really, really helpful for me," she explains. "It's not often that I look small. So physically he's very dominating as well, which is frightening, but I take him on."
In Sunday's episode, "Burning Love," viewers will see just what Kidman means. "It's very sad, but it's so great that amidst all of the entertainment value of this show, you can still tap into some topical things that are hopefully really truthful because it's not gratuitous or exploitative," she says. "It's a very real part of this relationship, and the many that it mirrors in the world, that Celeste feels she needs to protect him."