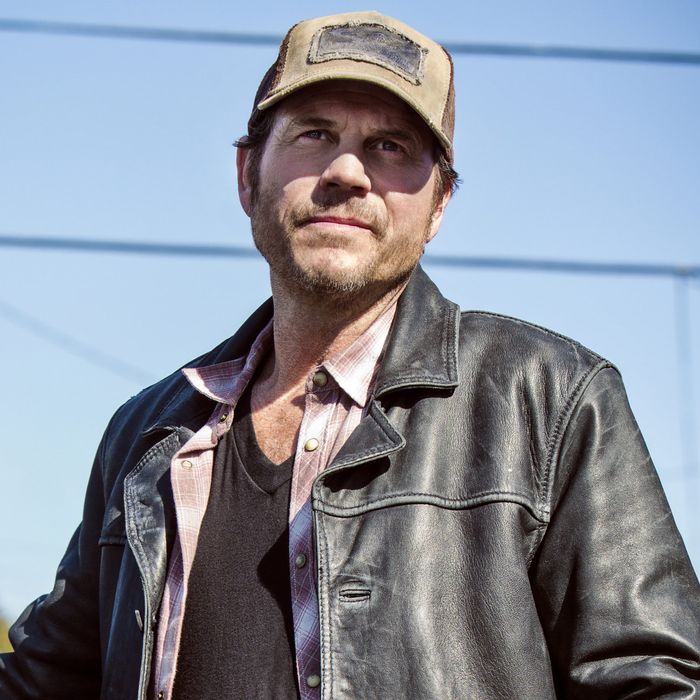 Bill Paxton on Training Day.
Photo: Robert Voets/CBS
In the following essay, Training Day creator Will Beall recalls his fond memories of working on set with the show's star Bill Paxton, who died last Saturday at 61. The CBS series premiered February 2 with a 13-episode order, and it's not clear if it will get a second season. Paxton had already filmed all 13 episodes, and Beall has stated he will not be recasting the role. Tonight's episode will feature a special dedication to Paxton.
I called Bill the night before our two youngest writers, Greg Yeoman and Alec Wells, were due to show up on set for the first day of production on their episode of Training Day — the first thing those two had ever had produced.
"Bill," I told him. "This is going to be Greg and Alec's first time on set."
"Don't worry, I'll go easy on them."
"No, dude! I'm calling because I want you to fuck with them!" Who better to haze these baby writers than the crew-cut god of hazing himself?
"Oh, buddy!" Bill cackled. "Got you covered!"
Complaining about a line he didn't like, Bill hollered at the wide-eyed Greg and Alec: "Why don't you guys just shove the horse cock right in my mouth!" Bitching about a long exposition scene, Bill barked, "Goddamn, guys! This scene's longer than a whore's dream!"
These kinds of lines just spilled out of him in real life.
Bill didn't let the kids squirm for too long, though. He let them in on the joke, telling Greg and Alec I'd put him up to it. And they loved him for it.
That was part of his genius. Bill was the president of his own fraternity, and he made us all lifetime members. There were only three requirements for membership: work hard, have a sense of humor, and be nicest to the people you don't have to be nice to. Bill always was. He sought out the shyest on set, welcomed the wallflowers. He gave the motor cop on traffic control just as much attention as he did Jerry Bruckheimer. While we were circling around set on the process trailer, shooting a scene for the pilot, some real gangbangers recognized him and shouted out 'Hey, ALIENS!' Bill waved, and gave them a quick "Game over, man!" And then continued his dense monologue without breaking stride.
He gave them that. Channeled Hudson for a half-dozen hard-core gangbangers gathered around a rusty weight bench on a bald lawn. And of course they took it like a blessing from the Pope.
Everybody knows Bill was hilarious. And most of his jokes were made at his own expense. He never took himself too seriously, but he was serious about the work. I've never met a more committed actor. He had a filmmaker's eye and keen narrative instincts. He fought for every moment, demanded the best from everyone around him. He swung for the fences, every take, every time. No one worked harder or was harder on Bill than he was on himself. He'd have a performance down pat, but then ask a director to go again. And again. He wanted to make every take perfect.
And then there was the cork.
Bill used to prepare his monologues with a cork in his mouth. He'd been taught the trick by an actor years ago. He'd pop a cork in his mouth and run his lines around it. Once that cork came out of his pocket, you knew Bill wasn't fucking around.
He knew what it took to make a good film, and his infectious enthusiasm inspired us all. Even as the most experienced in a young cast on Training Day, Bill embraced all of the actors as equals. Justin Cornwell, the young rookie cop, whom Bill's character mentors as a young detective, was probably the prime recipient of Bill's generosity. Bill became Justin's real-life training officer — a veteran imparting wisdom and knowledge to a younger actor just getting started.
Looking back now, perhaps the most poignant memory is that Bill got the chance to act with his son, James, a terrific young talent in his own right. What made the episode so special — and maybe even more special now — is that it was an episode about fathers and sons and the legacy that fathers leave to their kids. Bill was so incredibly proud of James and so thankful he'd gotten the chance to work with him.
On our last night of production, we all got pretty shit-faced, and Bill gathered us together on one of our stages and made a speech to the whole crew. This is what he said:
We are in a sacred hall. We are in a temple. There are people that have gone before us, who've come together, like we have, to make something … You know, in modern society, we are all alone. We're all alone. But here we've come together as craftsmen and artists to make something, and that's a very special thing, carrying on a tradition that goes back a hundred years, which is amazing to think about. We are so privileged to be doing what we are doing.
Bill loved Old Hollywood, loved tracing his artistic lineage back to Harold Lloyd. On set, he once told us a story about working as a nonunion set-dresser at Culver Studios — the same studio where the series was being shot. He'd been sent off to a back lot to find some old bales of cotton to dress the set of Roger Corman's 1975 movie Darktown Strutters. With a little boy's sense of awe, Bill recounted finding the bales in some old crates that still had the markings of the film they were originally intended for: Gone With the Wind. He couldn't believe that those same bales of cotton that had been used in that film were now in his own hands. "It was so cool," Bill said.
And Bill was cool.
Christ, was he cool.
We bonded over Ward Bond, the great character actor, who played prizefighter John L. Sullivan opposite Errol Flynn's Jim Corbett in the 1942 film Gentleman Jim — specifically, the touching scene at the end where John L. Sullivan congratulates Jim Corbett on defeating him in the ring. Bill told me it was his favorite scene in any movie, so I'm including it here:
I've watched it many times since hearing of Bill's death. I still get choked up when Flynn tells Bond: "I hope that when my time comes I can go out with my head just as high as yours. There'll never be another John L. Sullivan."
Bill, I hope that when my time comes I can go out with my head just as high as yours.
There will never be another Bill Paxton.