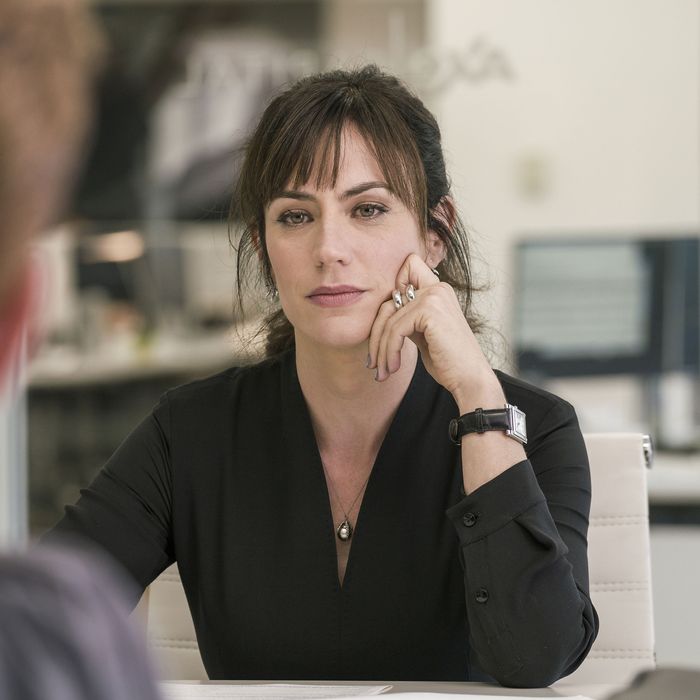 Maggie Siff as Wendy Rhoades.
Photo: Mark Schafer/SHOWTIME
The second season of Billions reaches its halfway point with a nice change-of-pace episode, an hour that allows for longer, dialogue-driven scenes and fewer guest stars. The writing team contrasts the relationships of Wendy (Maggie Siff) and Chuck Rhoades (Paul Giamatti) with Lara (Malin Akerman) and Bobby Axelrod (Damian Lewis). In both cases, characters make grand gestures in attempt to appease their partner, though they're also acting selfishly. In the end, Chuck seems to be more victorious than ever, but he's lost the thing that mattered to him most of all, while Axe realizes he lost on one of the biggest gambles of his career.
Someone who looks like he's about to lose literally everything, especially his lunch, is Lawrence Boyd (Eric Bogosian), who meets with Axe after posting $5 million in bail. Bogosian sells stress and exhaustion well, as Boyd desperately pleads with Axe for help. Axe reminds him that he was too morally opposed to the advice from Hall (Terry Kinney). Not anymore. Axe will bring him back, but know that Axe rarely does anything magnanimously. Axe needs a victory, too, and he can't let Chuck get the upper hand. This isn't loyalty as much as it is partisanship — Boyd is on his side of the aisle, Chuck is on the other.
Speaking of Chuck, he meets with Ira (Ben Shenkman) in a lovely scene that allows the two actors some nice character development. Chuck is holding onto a house he can't afford for two reasons. One, he still longs to live in it with Wendy. Two, if he sells it, she'll know the full extent of his dilemma. It's a really good scene for Giamatti, selling the worry on Chuck's brow and the exhaustion in his body language. Ira reminds him that everything has a lifespan. Some things need to change or die off.
Elsewhere, the case against Boyd hits quite a big obstacle. Hall convinces Boyd to bribe the prosecution's best witness to the tune of $10 million a year, and now the defense feels so confident that their client doesn't even go to the meeting the next day in Chuck's office. The vulgar display of bravado reveals their hand and Chuck realizes they've lost their witness. All they have is a recording. But Chuck refuses to let it go, telling Bryan (Toby Leonard Moore) that he's going to trial anyway.
Axe faces a stumbling block with the casino in the form of a savvy local, who's holding onto 200 acres of land Axe needs for access roads to the gambling mecca that'll make him a fortune. Axe heads up there to personally woo the man, settling on a deal for $5 million for the land and a collector's motorcycle called an Indian Four. He doesn't realize it yet, but this may end up being the deal that breaks him.
Before he faces that reality, Wendy and Chuck get their longest scene of the season so far. She stops by on Chuck's night with the kids, and the two have a pleasant enough exchange that she decides to stay for dinner. Is reconciliation in the cards for the Rhoades marriage? There's almost a kiss, but I like how complex this dynamic has become. It's a relationship that blends both regret and comfort simultaneously. Wendy notices that Chuck takes two calls from Ira that night, and goes to visit the family friend and attorney. Even though Ira claims he can't say anything, he tells her that Chuck is on the hook for a lot of damage to his bank account and reputation. She never wanted to see Chuck crushed.
Wendy's going to make sure that Chuck survives the worst year of his life. She meets with Axe, telling him that she'll come back to work with a few demands, including more privacy and more money. Oh, he also has to drop the lawsuits against Chuck. Why is she doing this? To save her husband, or go back to the only job she's loved? Why not both? Billions is often at its best when it captures how people can give and take at the same time. Speaking of that, Axe relents immediately, keying Wendy into the fact that this was always his plan. He admits it was a scenario he had gamed out: bank the lawsuits against Chuck and use them as leverage to get Wendy back. She'll work for Axe, but she won't treat him. It will be purely an employer-employee relationship. If you believe that, I've got some land in upstate New York to sell you.
Axe knows someone who won't be happy about Wendy going back to work: his wife. Over a dinner date in which she's expecting an apology for his behavior in last week's episode, he tells her about Wendy. She's furious, not only because Axe brought back someone she doesn't trust, but for the way he's trying to play her. He had already made up his mind, and now he's pretending to ask her advice. She makes a grand exit via helicopter while he's on the phone with Hall. Regular people slam a door to end a fight; Lara Axelrod takes a private copter to her mansion.
After Axe officially drops the suits against Chuck, meaning a potentially fatal bullet has been dodged, Dake (Christopher Denham) moves forward with his investigation, finally badgering Loni (Malachi Weir) into speaking to him. Dake has no idea how much capital he's about to lose as Bryan games the jury selection system in such a way that Boyd and his team start to panic. They'll take a deal now: admission of guilt, five years probation, $60 million fine. Chuck balks, but the AG calls and tells him to make the deal. His job will be safe for now, the lawsuits are gone, and even Dake has to pack his bags and leave, but not before spitting, "Don't get fucking comfortable" at his nemesis. I doubt we've seen the last of him.
Meanwhile, Chuck Sr. (Jeffrey DeMunn) sabotages the casino deal with a single call to an old friend played by Oscar nominee David Strathairn. I have to believe we'll be seeing more of him than this cameo.
The final, crucial scenes bring Axe and Chuck to momentous revelations. First, Axe and Lara make up, but only after Axe pretends to compromise by telling her that he won't meet with Wendy. (Remember: That was Wendy's demand, not an Axe concession.) He's always a player, even with his wife. More devastating, he learns that the casino deal won't happen and he's now got a municipal bond deal and 200 acres of land that he overpaid to buy. At the same time, Chuck is toasting his victories with Senior and Ira when he learns about the suits being dropped. He's not happy. He knows Axe well. He wouldn't do that if he wasn't getting something out of it. Something isn't right. He goes to confront Wendy, learning that she's going back to work for Axe Capital. He tells her that it's a deal breaker for the two of them. Chuck may have won many battles in "Indian Four," but he lost the person he cares about most of all.
Other Notes
• The closing song matches the melancholy tone of this excellent episode: "Goddamn Lonely Love" by Drive-by Truckers.
• Adam Arkin directed this one! The Emmy nominee has been an all-star in the director's seat lately, helming great episodes of The Americans, Justified, Sons of Anarchy, and Fargo, among many others.
• If you're wondering what Dake was talking about during his bizarre intro to Loni that referenced Bruce Buffer, it's this beauty.
• It's halftime. How do you feel about this season? Where do you think it's going? Who's your MVP of the first half? I think this has been Damian Lewis's strongest half-season, but he's an obvious pick. If not him, Asia Kate Dillon, Eric Bogosian, David Costabile, and the always-great Maggie Siff would be good choices.