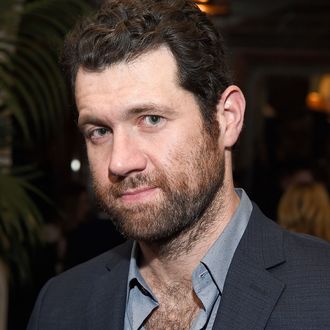 American Horror Story: On the Street.
Photo: Matt Winkelmeyer/Getty Images
In the continuing adventures of tall, white, dark-haired, well-jawlined men in American Horror Story, Billy Eichner has joined the cast of the Ryan Murphy horror anthology's seventh season. Per Deadline, he'll appear in six or seven of the season's 11 episodes and will be playing a "close confidant of Paulson's character and mostly will be wearing mysterious tank tops." So far, we know that the show's seventh season will be inspired by the 2016 election, with the first episode set in the aftermath of Election Night. So, what's up with these mysterious tank tops, and what role could they (and Eichner) play this season? A few guesses:
Billy Eichner will be playing a metaphorical embodiment of the white working class, a key voting bloc in the election.
Billy Eichner will be playing a riff on alt-right troll Milo Yiannopoulos, though, to be fair, his tank tops are less mysterious and more just awful (please don't click on that link).
Billy Eichner will be playing the metaphorical embodiment of America's failing manufacturing sector, which once produced great tank tops and is now reduced to producing merely mysterious ones.
The tank tops are a ruse. Billy Eichner is actually going to play Trump.