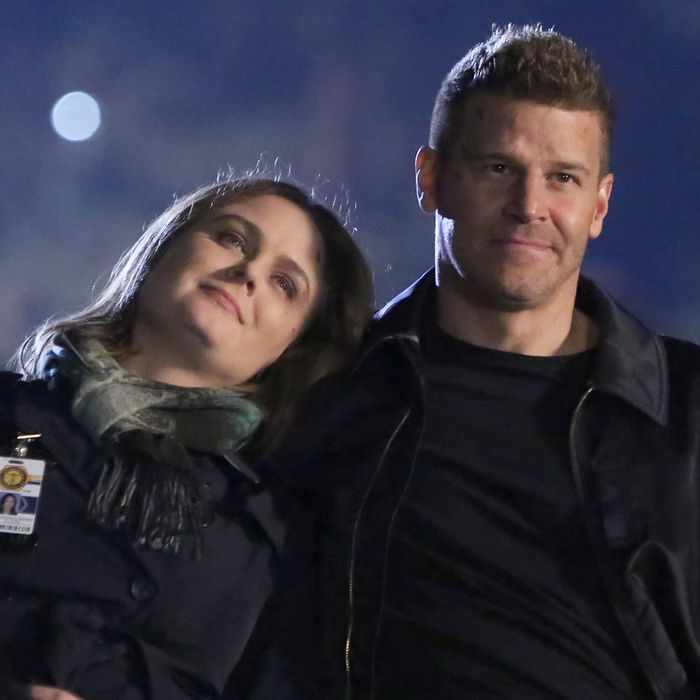 Emily Deschanel and David Boreanaz in Bones.
Photo: FOX
It took 12 years and 245 episodes to tell the story of Temperance Brennan and Seeley Booth on Bones, the Fox series that comes to an end tonight. For those who are curious but lack the time, patience, or commitment to take the journey in its entirety, we've put together a guide to the highlights and turning points in their relationship told in 12 episodes, all available on Netflix.
"The Man in the Fallout Shelter" (Season 1, episode 9)
The show's first Christmas episode quarantines the team in the lab over the holidays. Along with the inevitable seasonal bonding between characters who are, at this point, barely more than colleagues, we meet (through a glass barrier) Angela's blues-guitarist father (ZZ Top's Billy Gibbons) and Booth's young son, Parker (Ty Panitz). The first is the coolest addition to the Bonesiverse (seriously, this guy becomes an enigma bordering on mythological trickster). The second is our first peek into the personal life of Booth and an introduction to the most important person in his world. The team's chemistry really starts to bubble here.
"The Verdict in the Story" (Season 3, episode 13)
Brennan's father, Max (Ryan O'Neal), goes on trial for murdering an FBI agent. You'd think that Booth arresting Max would create tensions in their relationship, but the reverberations are much more complicated. Brennan's rather black-and-white views of crime and punishment collide with her filial feelings, which she struggles to suppress. Booth, with his more nuanced philosophy of justice, encourages her to be a daughter first and a scientist second. And Max, ever the devoted father, looks at Booth and sees not an adversary but an ally. This is the man who could make his daughter happy, and Max would just love to play Cupid.
"Mayhem on a Cross" (Season 4, episode 20)
A skeleton stage prop used by a Norwegian Black Metal band sends the team into the underground Death Metal scene, something Sweets knows from his own rebellious years. (He even has own goth makeup.) The scars of Sweets's years in foster care, something he's kept hidden, become an unexpected avenue of connection to Brennan, ever the psychology skeptic, and to Booth, who has kept a lid on his rough childhood. It's the first glimpse of the three as a family of sorts and a rare moment where the familiar roles flip, and Brennan encourages Booth to open up emotionally.
"The End in the Beginning" (Season 4, episode 26)
As Booth lies in a coma, recovering from emergency brain surgery, the cast take on roles in a fantasy episode where Booth and Brennan are married, passionately in love, and running a nightclub (called, of course, the Lab) in a negative-image flip of the show. It's a pulp film noir where the space-age white lab goes tech-noir black for a nocturnal drama of gangsters, players, shady politicians, and a hard-boiled writer narrating in not-quite-hard-boiled patter. Whose fantasy is it anyway: Brennan imagining a life with Booth, Booth's dream of a life with Brennan, or both?

"The Proof in the Pudding" (Season 5, episode 12)
The Jeffersonian goes on lockdown while the team is detained for a top-secret assignment: They have 24 hours to identify a set of remains without taking or testing samples. It's real Men in Black stuff with a JFK conspiracy twist, just the kind of thing to send Dr. Jack Hodgins into conspiracy hyperventilation, but this is really Booth's episode. The mystery delves into the bedrock of Booth's patriotism without sentiment (well, maybe just a little sentiment) and for a little needed levity, Diedrich Bader is in fine form as Booth's boss, trying to make a good impression on Brennan (they're dating) and constantly getting upstaged by Booth's super-agent badassery.
"The Parts in the Sum of the Whole" (Season 5, episode 16)
The show celebrates its 100th episode with a flashback to the first case that Booth and Brennan worked together, which predates the series debut. A gobsmacked Sweets, who has just written a study of their personal and professional dynamic, listens to them tell the story of when they met: a tale of two cocksure professionals in a temporary partnership churning with sexual sparks and aggressive flirtation. It's directed by Boreanaz, and his episodes consistently push at and play with the boundaries of the couple's relationship. This one shifts between the novelty of the "before they were a team" prequel and the unspoken emotions of the present. The only episode more devastating is …
"The Doctor in the Photo" (Season 6, episode 9)
Brennan investigates the death of an overachieving surgeon and can't help but see herself in the victim, a professional so focused on her work and her career that she made no meaningful relationships. It features Enrico Colantoni (one of the show's most memorable guest stars) as Micah, a chatty night watchman at the Jeffersonian who could be her guardian angel, late-night therapist, and imaginary friend rolled into one gentle Zen everyman. It also lets us in on a rare moment of naked emotion from Brennan, who is guarded but not unemotional. When she openly weeps, it is downright heartbreaking.
"The Hole in the Heart" / "The Change in the Game" (Season 6, episodes 22 and 23)
Booth takes on assassin Jacob Broadsky (Arnold Vosloo), who was once a fellow sniper in the Army Rangers and is now a hit man who only targets those he deems guilty. He makes an exception for Booth and the Jeffersonian team, and Booth appoints himself Brennan's bodyguard. Where "The Hole in the Heart" is pure thriller that puts the team in the crosshairs, "The Change in the Game" is a lighthearted undercover assignment with Booth and Brennan in Buck and Wanda mode for a murder at a bowling alley. This is not your traditional two-parter. In fact, only a couple of scenes carry through with the events from the previous episode, but they change everything. This is the defining turning point in their love story and the show delivers with remarkable understatement.
"The Prisoner in the Pipe" (Season 7, episode 7)
Nothing in their relationship is ever conventional, so why should the birth of Brennan and Booth's child be any different? You gotta love a natural birth with an allegorical twist.
"The Woman in White" (Season 9, episode 6)
Is this really a meaningful episode in the journey of Brennan and Booth? Not particularly, but Brennan gets a beautiful wedding with the entire extended family — friends, colleagues, squinterns, fathers/father figures, and more — gathered to celebrate. And how many marriage vows turn a reference to a serial killer into a heartfelt and moving expression of love and joy?
"The Psychic in the Soup" (Season 10, episode 11)
The producers struggled with how to deal with the exit of actor John Francis Daley in season ten, and their solution was to kill off Dr. Lance Sweets, thus preventing his return to the show. His legacy, however, reverberates through the season, and nowhere more powerfully than this episode. It's Sweets's birthday, the first Booth and Brennan have faced since his death, and the loopy but earnest psychic Avalon Harmonia (Cyndi Lauper) has a message from beyond. It's a doozy, a final gift from Sweets, and it's a lovely reminder of how much they owe to Sweets for pushing them to be honest about themselves and each other. As they admit, they might not have gotten together if not for him.