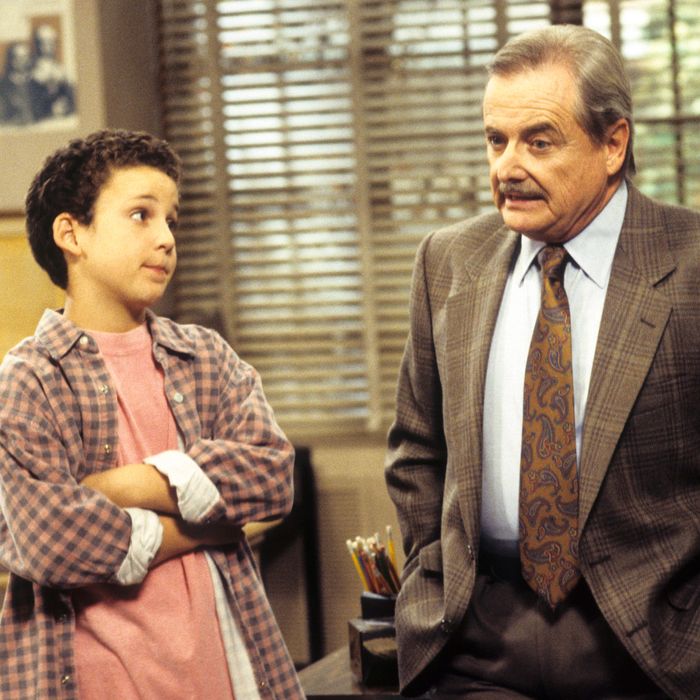 Photo: ABC Photo Archives/Getty Images
William Daniels has had a long career as an actor that included performances in The Graduate, Two for the Road, and 1776, but what convinced him to join the cast of a kid's show on ABC? As Daniels explains in his new memoir, There I Go Again: How I Came to Be Mr. Feeny, John Adams, Dr. Craig, KITT, and Many Others, it was the Shakespeare references. Michael Jacobs, who created the show, based Feeny on his high-school drama teacher, and convinced Daniels to join the cast by writing a speech about Romeo and Juliet that he would deliver to the show's titular boy, Cory. Most of the Shakespeare references ended up being cut, Daniels explains in the excerpt below, but the character remained a powerful presence on the show, and in the lives of millions of viewers.
—————
Over the years you fine-tune your acting ability. It doesn't mean you're not capable of giving a lousy performance now and again, but on the whole you reach a point where you've increased your level of achievement. And it's at that point, assuming that you are financially secure, that you have to protect your reputation by choosing carefully the roles you commit to. It was with that in mind that I expressed my doubts about taking on the role of George Feeny in a half-hour sitcom called Boy Meets World. At a meeting with the show's author and executive producer, Michael Jacobs, already an established playwright and sitcom creator, as well as a movie producer, I told him I didn't want to play a high school teacher who's made to look foolish for the sake of some cheap laughs. I had too much respect for the underpaid, underappreciated teachers of this country to portray one of them as a fool. Michael told me about Bob Stevens, a Shakespeare-loving high school drama teacher he had had back in New Jersey who was his mentor and a man he greatly respected. With this teacher as his inspiration, he created George Feeny. Michael was very persuasive and assured me that he would never have me play an idiot, so I came on board.
Michael wanted a strong-willed older man in the cast for comic tension and depth, someone like his high school teacher. From the beginning, he told me, he thought of me because he had liked my work in The Graduate, Two for the Road, and 1776. He had never met me before, but he told me that he could see that I played formidable characters with an edge and a humanity that appealed to him.
He likes to tell the story about how after the table read of our first show I went to his office and quit. I wasn't aware at the time that the series was in flux—that it hadn't yet found its own voice, its own point of view. Michael was in the middle of a rewrite as we spoke and asked me to give him twenty-four hours to complete it. If I felt the same way after I read it, he said, then I could leave. The new script had me deliver to my student, Cory, the facts of life, tying it into the importance of Shakespeare's Romeo and Juliet, which my student was studying and hated: "I live on the other side of the fence from you, Cory. It's impossible not to face in your direction every once in a while and notice the people in the next yard. And through the years as I've gotten to know them, it is apparent they are fine individuals. But, their real strength comes from being a family. And do you know why they are a family, Cory? Because at one time a man and a woman realized that they loved each other and pursued the unlimited potential of what may come from that love, and here you are. There is no greater aspiration than to have love in our lives, Mr. Matthews. Romeo knew it and died for it."
Here was a Mr. Feeny I knew I could play. I called Michael and said, "If this is what you can do in twelve hours, I will never quit again."
And that was the beginning of the longest series with which I've ever been involved, a seven-season run, from 1993 to 2000. Reruns of the show are still on tv. Memories of it fill the Internet. Blog posts dedicated to Mr. Feeny are common. Young people calling me by that name still stop me on the street or come up to me in restaurants. Once in New York I felt a little bit like the Beatles as a group of yeshiva boys chased me out of a Broadway theater while shouting "Feeny!" and thus forcing me to abandon my family temporarily and escape by running around the block.
I don't care for most television sitcoms. I rarely watch them. (I do love Seinfeld, though, especially the physical comedy of Julia Louis-Dreyfus.) Apparently I'm not alone, as the ones I'd done in the past, like Captain Nice, died quickly from lack of an audience.
After St. Elsewhere I had been offered numerous sitcoms, mostly with roles for both Bonnie and me as a couple. It was strange. We had played a couple in an hour-long drama, but the gods of show business somehow had decided we needed to be in a comedy together. One of the shows we turned down, Empty Nest, turned out to be a huge hit for nbc but only after an extensive rewrite that also reimagined the entire concept of the show.
You can imagine my surprise when Boy Meets World was not only a big success but one that created such an indelible impression on an entire generation more than half a century younger than me.
Mr. Feeny's appeal was due to the fact that he was a friend, a mentor, and an advisor all rolled into one. In a stroke of creative genius Michael even made Mr. Feeny a neighbor. At first this plot point got on my nerves. "How long am I going to have to be talking to people across this back fence?" I said to him that first season, pointing to the waist-high white picket fence that separated the Feeny home from the Matthews home on the set. "The way this is going," Michael replied, "I can't see us lasting more than seven years."
Feeny never "talked down" to the kids in the show, and the writing always assumed that the audience was intelligent enough to get the comedy. As the old saying goes, "If you have to explain the joke, it isn't funny." And that's why it still holds up in reruns. Boy Meets World is funny, genuinely funny.
I still get fan mail to this day from (now-grown) fans who tell me how important the show and the role I played were to them in their formative years. And Mr. Feeny's impact on popular culture shows up in social media, such as the Buzzfeed post "16 Things Mr. Feeny Taught Us," featuring clips in which I say things like, "If you let people's perception of you dictate your behavior, you will never grow as a person." Even parents have thanked me for the part I played in a show they felt comfortable having their children watch.
The show became a hit very quickly, helped in part by the scheduling. By creating a block of kid-oriented comedies on Friday night, when there was no competition from school homework, abc pulled whole families to the network. The abc executives called it "couch programming." They thought that children would react positively to the new shows and drag their parents with them. They were right.
That doesn't mean they were right about everything, and abc followed the usual network pattern of interfering in the show's creative process. Michael loved making references to literature and the wider world in his scripts, but network executives didn't always catch on or, if they did, they doubted that viewers would. An abc executive told Michael the Shakespeare references in the script for the pilot were "too intricate." The audience would not relate to them. Michael was forced to take them out. The executive who had ordered him to remove the Romeo and Juliet lines complained afterward that now the script didn't work. "What happened?" the executive asked. Michael replied, "You happened."
Through the seven years of episodes, my character followed Cory (played by Ben Savage), his family, and his friends as their lives changed. Mr. Feeny began the series as Cory's middle school teacher, later became his high school principal, and at the end was his college professor. (I've been told that fans who were following the show were distraught every time the kids graduated, fearing that it would be the end of Mr. Feeny.) As the show's child actors grew older and romantic plot lines became more common—particularly Cory's on-again, off-again relationship with Topanga Lawrence, played by Danielle Fishel—the share of female viewers between the ages of seventeen and thirty-five soared.
And Feeny became the pivot point for the show's budding relationships. The emotional growth of the characters relied on his advice about love, college, marriage, and life.
For me this show was a huge change from playing Dr. Mark Craig on St. Elsewhere. Dr. Craig was never the sort of man from whom young people sought warm counsel. That sort of advice seemed foreign coming out of me, but Michael explained that was exactly why he wanted me in the role. The combination of prickly rectitude and fatherly concern was irresistible to viewers, he said. As the part grew and Feeny's words took hold for a generation, I began to see what he meant.
Having Feeny as both neighbor and teacher, and later as school principal and college professor, kept me on the screen much of the time. If Feeny wasn't simultaneously infuriating and counseling the kids at John Adams (!) Middle School and High School, he was doing the same to the Matthews family next door, which included Cory, his brother Eric (played by Will Friedle), their little sister Morgan (Lindsay Ridgeway and Lily Nicksay), and their parents, Alan and Amy (William Russ and Betsy Randle), as well as Cory's best friend, Shawn Hunter (Rider Strong).
Michael Jacobs had assembled a talented young cast, and over the years they developed into real pros with exceptional comic timing. I don't know if I had anything to do with any of that growth, but Will Friedle has told me that I taught them by example, which was the way that Howard Lindsay had taught me all those years ago during Life with Father.
They were good kids, and they had good parents. They didn't know that I had been a child actor myself. I shared no stories about my days in radio or on Broadway. That wasn't my place. I treated them as fellow professionals, just as I had the adult actors I worked with on other shows.
I enjoyed watching the young cast members grow up. Ben Savage was eleven when we started working together. By the time the show ended he was seventeen and driving a truck into the studio parking lot. I thought the cast and their families learned to handle the hard work and pressure well. I was very careful not to take an advisory role. Bonnie suggested I give the young actors some tips, but I wouldn't do it. They did their own thing, and I did my own thing. I wanted it to remain a working relationship of equals.
There was a family feeling on that set. Michael was a kind man, very religious and very warm. Bonnie and I made friends with the adult actors, particularly William Russ, whom everyone called Rusty, and Betsy Randle. When we first went out to dinner, Rusty too said he was surprised to find himself doing a sitcom, having had a long career as a dramatic actor. "I only did it because you were in it," he said.
Having said all that, I must confess that performing in Boy Meets World presented certain difficulties for me, and in seven years I was never quite comfortable. We rehearsed for four days a week, and during that time the staff and the cast made the set a delight. But the days we taped the show the studio became a circus. It was a three-camera show with a live audience brought in to provide authentic laughter rather than the canned laughter many shows used (and abused). The audience consisted mostly of noisy young people who were there to have a good time. That would have been fine, except that the audience was encouraged to be "over the top." Like most three-camera sitcoms, there was a comedian on the set to "warm up" the audience with a few jokes and then instruct them that they were there to laugh. (Not much had changed in tv since I was a professional laugher during Mister Peepers.) During the taping they laughed on every other line of dialogue, or so it seemed to me. You never knew when they were going to laugh; sometimes they'd laugh before you got to the funny line. And when I'd flub a line they'd laugh like hell, but I'd be miserable. These audiences loved to see the actors mess up; I never understood why. Perhaps they enjoyed being in on a sort of inside joke.
Then there was what I can only call a "party" in back of the sets— friends and family of our own young actors, all milling about and munching on food laid out on a long table. Their chattering only stopped when the assistant director yelled, "Rolling!" This environment was no place for me, so I simply hid in my dressing room until it was time to do my scenes. But even then the commotion of moving cameras, laughter, and other noise made it difficult for this old man to concentrate (I was sixty-five when the series began). I'm very old school, and I need a short moment of calm before I make my entrance. There was no understanding of this on the set, and that's why someone didn't hesitate to inform me just before an entrance one day that he was sorry to hear that Ed Flanders had committed suicide. Ed was my Emmy-winning costar on St. Elsewhere and quite honestly my favorite scene partner of all time. I absolutely adored working with him and was devastated by the news. For the first (and only) time I couldn't make my entrance, not for a while anyway.
I only "lost it" once. We were on location, inside a building with some musical equipment. Michael was there keeping an eye on things as he sat at a piano. The younger cast members were still learning how to handle the demands of a weekly show. It had been a long day. Their attention spans had expired. They were blowing off steam.
The noise wouldn't stop. I decided I had had it and shouted very loudly, "Everyone be quiet!!"
They immediately sat down and went silent. Michael said the young actors were in awe of me but knew little about me. They had no clue that I was similar to them in some ways, having also been a child performer. They were so ignorant of the real me that they thought I was British, he said. He claimed even he caught an occasional hint of an English accent in my performance, including the impromptu one I delivered to the young actors that day. "I don't care what the script says," I said.
"I don't care what the blocking is. I don't care if you have made some mistakes in your lines. What I do care about is that your heads are in the game. Your heads are not in this game, and I will not have it!!"
The speech lasted less than a minute. Then I left. I passed Michael as he sat at the piano. Like everyone else, he looked stunned. The cast had seen me blow up many times, but only as Mr. Feeny delivering his lines. Michael said he knew I was not really angry, just frustrated. He also heard in my speech the rhythms of another character I had played years before.
As I stomped past him, he put his hands on the piano keys and played the first few bars of the theme to St. Elsewhere, one of the most recognizable melodies ever written for series television. He was not sure how I would react. But I got the message from him—he knew that I was "performing." The kids couldn't see my face. I smiled and winked at Michael. I turned to give my young colleagues another stern look, then made my exit.
After seven years Boy Meets World ended—just as Michael had predicted. I felt close to my fellow actors. Toward the end, when the main characters had reached college, Bonnie was cast as a dean and became a love interest for Feeny, then a professor. Our characters married on the show, perhaps to reassure viewers that Mr. Feeny would not be too lonely now that the students who had occupied so much of his time were graduating from college and moving to New York City.
Many fans of the show have told me they cried at the last scene of the last episode, when my four favorite students said goodbye to me. The episode was full of flashbacks to early episodes, when the actors had all been middle school age, not the three robust young men and the young woman who now appeared on the screen. For the last scene the four of them ask Mr. Feeny to meet them in their old middle school classroom, where it all started.
"We wanted to know if you have anything else to teach us," Topanga said.
"My work with you is done," I said.
"I don't know," said Shawn. "It's pretty scary. Going off to a whole new world."
"You're ready to go into that world."
"Even me?" asked Eric.
"Even you," I said.
I paused for a moment, then sat at a corner of my desk and delivered a favorite Mr. Feeny slogan that has since gone "viral," as they say: "Believe in yourselves. Dream. Try. Do Good."
"Don't you mean do well?" asked Topanga, by far the best student in the group.
"No, I mean do good."
"Well, I guess there is just one thing left then," Eric said. "Tell us you love us."
I bristled. "Now look," I said. "If there's one thing I've taught you, it is there is a line between teacher and student that must never be crossed."
"Tell us you love us," Eric repeated.
"I regard all my students equally."
"Oh, you know we're your favorites," said Shawn.
"Come on, Feeny," said Cory. "You haven't even talked to another student for seven years."
That was a funny line, a wink at the audience members who knew that no Boy Meets World episode had ever shown me spending much time with anyone but those four. I hugged each of them. They left the classroom one by one, leaving me with Cory, my young friend Ben Savage, the star of the show, his name always appearing just before mine in the credits.
"You coming with us, Mr. Feeny?" he asked. "You gonna sneak up on us in Central Park or something?"
"No. I will remain here."
"You'll always be with us. As long as we live, okay?"
I nodded. Ben walked out of the classroom. After he left I reached down and touched one of the little middle school desks in the front row. I was the last person on the screen at the end of Boy Meets World.
"I love you all," I said softly. "Class dismissed."
Excerpted from There I Go Again: How I Came to Be Mr. Feeny, John Adams, Dr. Craig, KITT, and Many Others by William Daniels by permission of Potomac Books, an imprint of the University of Nebraska Press. © 2017 by William Daniels. Available wherever books are sold or from the Univ. of Nebraska Press 800.848.6224 and at nebraskapress.unl.edu.