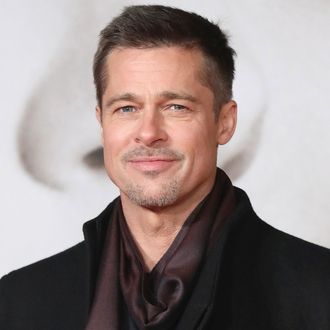 Photo: Tim P. Whitby/Getty Images
Brad Pitt is going through the most famous breakup in American history. (Hear that, Howard Zinn?) To recover from his last dozen years as half of Brangelina, Brad's doing what any lovelorn dumpee would do: He missed the Oscars because he was busy sculpting, and now he's blasting Bon Iver and sculpting even more, according to a Daily Mail report. "The star's art soundtrack includes songs by indie singer Bon Iver, and breakup track 'Just to Satisfy You' by Waylon Jennings." Some might say a propensity for Bon Iver's shrill mumblings is categorically a bad sign, but to paraphrase Game of Thrones, Bon Iver (much like chaos) is a ladder. Listening to Bon Iver means better days are coming. So which Bon Iver songs is Brad probably listening to, in addition to his Waylon Jennings on repeat? Let's take a moment to unpack this.
Brad Pitt doesn't really need the mystifying Auto-Tuned version of Bon Iver on his most recent album. He needs the post-breakup Bon Iver, whose songs perfectly soundtrack heartbreak and yearning. Brad's probably leaning deep into some For Emma, Forever Ago deep cuts. For Angie, Forever Ago — you get it.
"Perth" isn't a heartbreak song, but it sounds like it could soundtrack a dramatic montage of wild artistic expression. This is the song for throwing around clay, defiantly mixing two colors that definitely do not go together, and then wiping the sweat from your furrowed brow and figuring out how to Eat Pray Love your way out of this.
"How many hearts must break? How many it's going to take to satisfy you, just to satisfy you." No, these words aren't dialogue from a David O. Russell–Jennifer Lawrence movie. Those are Waylon Jennings lyrics, the very lyrics Brad Pitt is using to get over his divorce from Angelina Jolie, according to the Daily Mail. What precious words: "How many hearts must break?" Ours, Brad. Ours.
Waylon Jennings is probably reserved for those moments when William Bradley Pitt is sculpting and really feeling himself. Brad Pitt wakes up. He puffs his vape a little bit, yanks a plaid shirt from his closet (the kind of shirt that looks like it's worn-in from a thrift shop but is definitely from Barneys). He tugs on his sculpting jeans, the ones with visual evidence of his artistry. He drives to the studio, vaping some more and listening "Just to Satisfy You." He's just a lone cowboy, man, who rode too fast, got too caught up in Hollywood's artifice. He's gotta take this artistic journey alone. Then he rolls up his sleeves and gets to work on his masterpiece.