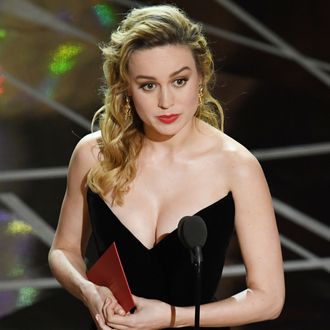 Photo: Kevin Winter/Getty Images
Last night was the Los Angeles premiere of Kong: Skull Island, and during the red-carpet press line, Vanity Fair asked Brie Larson about her much-discussed reaction to announcing Casey Affleck as the Best Actor winner at the Oscars. (On the telecast, Larson closed the envelope and did not clap, looking displeased.) "I think that whatever it was that I did onstage kind of spoke for itself," Larson said, adding, "I've said all that I need to say about that topic."
Affleck's awards-season run hit some speed bumps when talk of the sexual-harassment allegations levied at him by two former female employees (both of their lawsuits were settled out of court in 2010) resurfaced, making for loud speculation ahead of each big gala about whether or not the actor's shower of hardware would be stalled by stigma. As the previous year's Best Actress winner, Larson was tasked with handing out Best Actor trophies at the big three ceremonies: the Golden Globes, the Screen Actors Guild Awards, and the Academy Awards. Affleck won two of those, and both times, Larson reacted with subtle shows of nonsupport. There was the expressionless glance into the middle distance at the Globes, and then the more obvious absence of applause at the Oscars.
Given that her displeasure for Affleck's wins has been defined by absence up to this point, it makes sense that Larson wouldn't get more specific in her condemnations now, even with the politicking of awards season behind her. And there really couldn't have been a more effective foil for Affleck than Larson: She won her Oscar last year for playing a young woman held prisoner by a man and raped for years who, upon liberation, must come to terms with the outside world as she cares for her a son who is the product of sexual assault. At that same Oscars, Lady Gaga performed the nominated song "Till It Happens to You," flanked by dozens of assault survivors with messages of solidarity written on their arms. Larson formed a receiving line as they exited into the crowd and hugged every single person who passed in front of her.
Yesterday was also International Women's Day, and Larson spent the day leading up to her red-carpet evening by asking followers to "Share a story: a moment you grew as a woman, or a woman who helped you grow," and then retweeting people's responses. Many of those retweets were of women sharing small stories of abuse, objectification, and assault, and how they changed as a result. Those Women's Day posts were a continuation of Larson's tendency to use social media as an inclusion platform. On Instagram, she frequently has people do takeover posts just to talk about who they are and what they aspire to.
When your public persona is defined by how much of the world you embrace, and then you take a very public opportunity to fold up your arms during a moment meant to elicit adulation, what you're seeing is Larson voicing the loudest kind of "fuck you" she's willing to give on record. Brie Larson once hustled more than 20 people toward her so she could give them all a hug at the Oscars in 2016, and at this year's ceremony, she didn't clap for the single Best Actor winner standing face to face with her. If that's all she's willing to say on the topic, it's a lot.