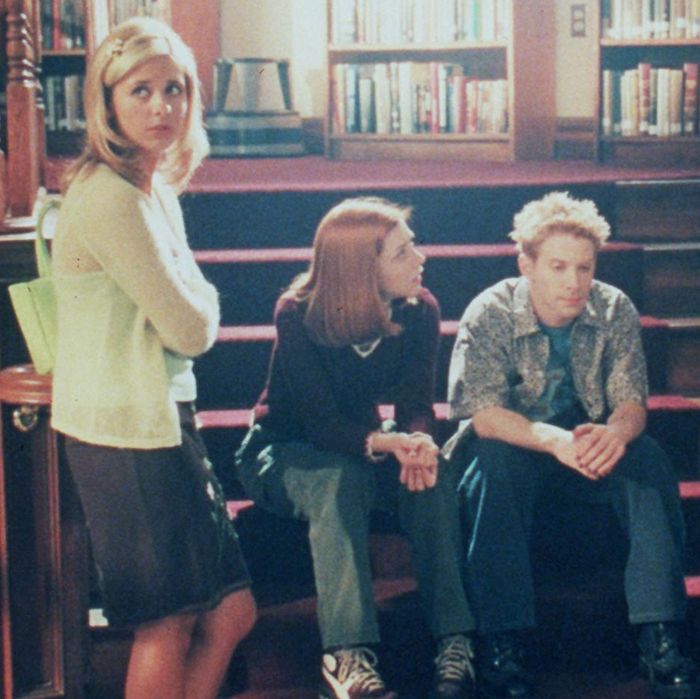 Were we ever so young?
Photo: Getty Images
Few things define an actor's career, for better and for worse, than starring in a cult hit. Twenty years after Buffy the Vampire Slayer's debut, the show remains the defining resume entry of nearly everyone involved in its making, even if many of them still work in TV. In what one might consider an edition of the Sunnydale alumni newsletter, we've taken a look back at the various post-Buffy careers of the primary stars in the series, including Emmys, cookbooks, and winking guest appearances on other shows. Though it goes without saying, you should also assume that they all spent a lot of that time answering questions about Buffy.
Sarah Michelle Gellar (Buffy)
After seven seasons of slaying, Gellar tried out a film career with the likes of The Grudge, Southland Tales, and the live-action Scooby-Doo movies. In 2011, she returned to TV with a twin and way too much green screen on the short-lived Ringer, and tried again with CBS's advertising comedy The Crazy Ones in 2013. This year, Gellar signed onto play Kathryn Mertuil again in a Cruel Intentions TV pilot, but that seems to have died on the vine. In the meantime, she's written a cookbook!
Alyson Hannigan (Willow)
While on Buffy, Hannigan also appeared in the American Pie movies, reminding audiences of "that one time, at band camp." After she was done with Willow, she starred in Date Movie, stopped by Veronica Mars, and then signed on for a long commitment to play Lily Aldrin in How I Met Your Mother, which ran from 2005 to 2014. Now, in keeping with Willow's fondness for magic, Hannigan hosts the magical variety show Penn & Teller: Fool Us. She's also married to her sometime Buffy and HIMYM cast member Alexis Denisof. They have two daughters, and are very fond of crazy Halloween outfits.

Nicholas Brendon (Xander)
Brendon went from playing the fumbling Xander to a role as a pastry chef on the one-season Bradley Cooper chef show Kitchen Confidential in 2005, and on to a recurring gig on Criminal Minds from 2007 to 2014. In recent years, he has had multiple run-ins with the law, and openly discussed substance-abuse problems. He's also involved in writing Buffy comics.
Anthony Stewart Head (Giles)
Every show, fantasy or not, needs a serious British gentleman to give it some gravitas. Since Buffy, Head has booked roles on Little Britain (from 2003 to 2006) and Merlin (from 2008 to 2012), and in Repo! The Genetic Opera and the Percy Jackson sequel. Head's set to return to his roots being confused by teen antics as a series regular in ABC's upcoming Shondaland Romeo & Juliet sequel, Still Star-Crossed, though that doesn't yet have a release date.
James Marsters (Spike)
After leaving Sunnydale, Marsters brought Spike straight to Los Angeles for the final season of its spinoff, Angel. Then, he gave the people the villains they needed, as Milton Fine/Brainiac on Smallville, Barnabas Greeley on Caprica, Mason Tarkoff on Witches of East End, and the not-quite villainous (but complicated!) Captain John Hart on Torchwood. He also had a memorable little role in 2007's P.S. I Love You. Soon, he'll a play parent on Marvel's upcoming teen show Runaways — we're all so old!
Emma Caulfield (Anya)
Caulfield went from roles on Beverly Hills, 90210, and General Hospital to a bit role on Buffy that eventually made her into a series regular. From there, she tried her hand at a variety of different projects: the 2003 horror movie Darkness Falls, the 2009 conceptual rom-com TiMER, and more recently stints on Life Unexpected and Once Upon a Time. She's also helped write a webcomic called Contropussy, which, to be clear, is about a cat.
Michelle Trachtenberg (Dawn)
Trachtenberg materialized in Sunnydale in Buffy's fifth season to play Buffy's sister, Dawn, who was never too popular with fans (maybe it was the fact that she was always getting into trouble). Since Buffy, she appeared in Six Feet Under, 17 Again, Weeds, and EuroTrip. Most memorably, she stirred up trouble on Gossip Girl as Georgina Sparks, who never met a wig she didn't love.
Kristine Sutherland (Joyce)
Sutherland acted as Buffy's steady, if clueless, mother for the first five seasons of Buffy, until her untimely death in the heartbreaking "The Body." After leaving the show, Sutherland went back to school to study photography and pursue a career as a photographer. She continues to act in occasional projects, including 2012's My Perfect Wedding and a 2013 episode of The Following.
David Boreanaz (Angel)
Boreanaz left Buffy after its third season to star in the spinoff, Angel, in which Buffy's onetime paramour sets up a detective agency in L.A. and also fights an existential battle against the forces of evil. Soon after Angel ended in 2004, he booked the lead role of the one who isn't named "Bones" in Fox's Bones, starring in that from 2005 until the present. What will he do after Bones ends? If you know, please tell us and Billy Eichner!
Charisma Carpenter (Cordelia)
Like Boreanaz, Carpenter left Buffy for Angel, where the mean girl Cordelia matures into a hardened crime-fighter, and then gets pregnant with a goddess (Angel was a weird show). After Angel, Carpenter picked up gigs on Veronica Mars, Greek, and The Lying Game. On film, she booked a supporting role in The Expendables and its sequel. She's also milked her Buffy past for meta-humor, appearing with James Marsters on Supernatural and playing Ariana Grande's mom on Scream Queens.
Amber Benson (Tara)
Benson was only credited as a series regular on one episode of Buffy (the one where she was killed off), but of course, everyone remembers Willow's great love Tara. Since leaving the show, Benson has appeared in the film Latter Days, on Supernatural, and across from Gellar on Ringer. She's largely focused on projects outside of acting, writing and directing films, and writing both comic books and novels.
Seth Green (Oz)
If not for Danny Strong, Green might be one of the Buffy stars with the least Buffy associations. After leaving Sunnydale, Green went into a film career that included Austin Powers in Goldmember (2002), The Italian Job (2003), and a long-term voice acting role as Chris on Family Guy. He co-created the stop-motion comedy series Robot Chicken, which has become a juggernaut in its own right, and continues to pop up everywhere from Broad City to Crazy Ex-Girlfriend.
Marc Blucas (Riley)
Poor, ordinary soldier dude Riley didn't get a lot of love on Buffy, possibly because of his fondness for weird hair-parting schemes. Since Buffy, he's taken on film roles in 2002's We Were Soldiers and alongside Katie Holmes in 2004's First Daughter. He played a trainer on USA's Necessary Roughness, and now plays an abolitionist on WGN's Underground. He also appeared in 2015's Sleeping With Other People where he flirted with Alison Brie, and was, yet again, the wrong guy.
Danny Strong (Jonathan)
Who would've thought that little old Jonathan would go on to win two Emmys and create Fox's hip-hop megahit Empire? (Well, Jonathan, maybe, if you go by what he wishes for in "Superstar.") Strong went from Buffy to a career as a character actor, running the Yale Daily News in Gilmore Girls and trying to get a job on Mad Men, and as a writer, earning Emmys for his work on HBO's Game Change, and then going on to write Empire and the last two Hunger Games movies. He's currently writing and directing Rebel in the Rye, which stars Nicholas Hoult as J.D. Salinger. Not bad for a member of Buffy's incredibly incompetent trio of Big Bads.
Tom Lenk (Andrew)
Lenk, the second member of the Trio, went from Buffy to roles on Six Feet Under, House, and How I Met Your Mother. He's appearing on Broadway in Rock of Ages, and became part of the extended Joss Whedon troupe with appearances in 2012's The Cabin in the Woods and Much Ado About Nothing.
Adam Busch (Warren)
Busch, who played Warren, the most actively villainous member of the Trio, went on to appearances in House, The Sarah Connor Chronicles, and Grey's Anatomy, and starred in TBS's Men at Work. He recently appeared on Empire, in a reunion of sorts with Strong, and is also set to appear in Rebel in the Rye. Those Trio ties run deep!
Eliza Dushku (Faith)
Also known for her role in Bring It On, Dushku played a rival, and eventually ally, slayer on Buffy. After Buffy ended, Dushku starred in Fox's Tru Calling from 2003 to 2005 and then got a Joss Whedon show of her very own, Dollhouse, which lasted for two seasons from 2009 to 2010. She recently moved back to Watertown, Massachusetts, and enrolled at Suffolk University. She is getting a Bachelor's in sociology and plans to work to combat substance abuse.