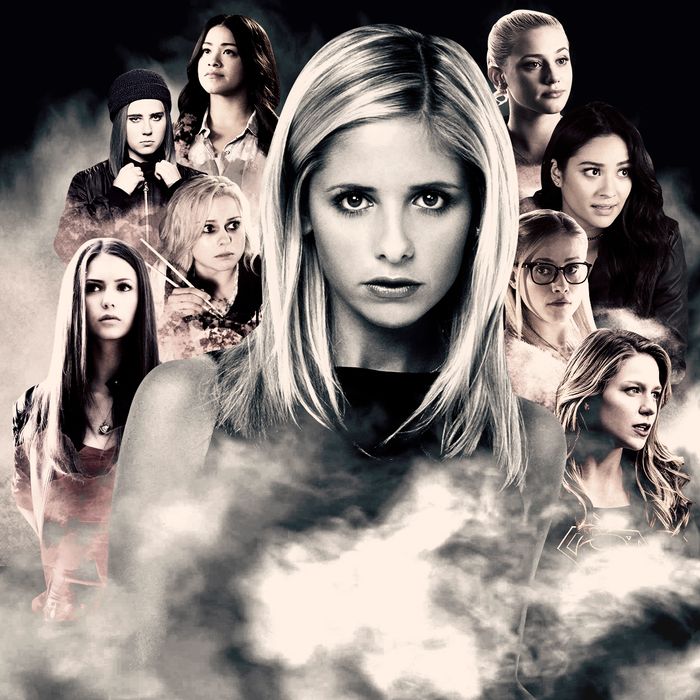 Photo-Illustration: Maya Robinson/Vulture
In every generation there is a show like Buffy the Vampire Slayer, which can alone reshape the television landscape, inspire dozens of imitators — and also fight against the forces of darkness. When it debuted in 1997, Buffy made TV more quippy and more serialized, while also cementing the template for a certain kind of hard-nosed female protagonist. Twenty years later, there is no one clear successor to Buffy, but a whole lot of shows share parts of its DNA, from its tropes and its approach to mythology to its offbeat sense of humor. A complete taxonomy of its TV genealogy would be incomplete without the phrase "all the shows," but for those Buffy fans who are looking to fill that Slayer-sized hole in their hearts, we present a collection of shows that may satisfy your craving.
For grown-ups who'd like to hear swears, watch The Magicians
After a wobbly first season, Syfy's The Magicians (based on the books by Lev Grossman) has gotten a better sense of itself in its second. The show follows a group of 20-somethings who find themselves in charge of a magical Narnia-like land while attending a Hogwarts-like magic college. The Magicians has all Buffy's taste for confused stuttering by immature people dealing with immense power, alongside some compelling season-long mysteries, studded with a bunch drugs, sex, and foul language.
Season two is airing on SyFy. Season one is on Netflix.
For vigilante justice, watch Sweet/Vicious
After teaming up to take down a college rapist, the two lead characters of MTV's Sweet/Vicious end up singing along to "Defying Gravity" in the car. The prim sorority sister and stoner computer hacker make for quite a mismatched duo, and they start a campaign against sexual assailants at their school. Buffy never quite figured out how to make college story lines work (bless Riley's heart), but if it had, it might have looked like this.
Season one is available through MTV.
For a Scooby Gang on an adventure, watch Timeless
Few shows come with as much old-fashioned fun as NBC's Timeless, which traverses through American history with the gee-whiz wonder of the Magic Tree House books, while packing in a nifty Alias-style conspiracy plot. The show's band of heroes work together in "time team," which is exactly as dorky and winsome as it sounds.
Season one is available on Hulu.
For old-school WB vibes, watch Supernatural
Given the mark Buffy left on the WB (and then on UPN), it stands to reason that this list would include a lot of CW shows. First up: Supernatural, which survived the leap between networks and is still chugging along. No need to commit to the show's very long run, but if you're in the mood for quips, demons, and the constant threat of the end of the world, try sampling an episode or two.
Season 12 is airing on the CW. Seasons 1–11 are on Netflix.
For a whole lot of vampires, watch Vampire Diaries
Do you wish that the debates between Spike and Angel formed the basis for a whole TV show? The Vampire Diaries is about to finish its run, which is too bad, but hey, Nina Dobrev is coming back somehow.
Season one is airing on The CW. Seasons 1–7 are on Netflix.
For metaphorical mysteries, watch iZombie
In the years since Buffy, many shows have picked up on the show's serialized aspects — with seasons that revolve around a defeating Big Bad, for instance — but few have matched the show's ability to turn out effective, interesting episodes week after week. Enter iZombie, in which a medical resident named Olivia gets turned into a zombie and helps the police solve crimes by eating the brains of victims in the morgue. In doing so, Olivia takes on the personality of whomever she's eating, learning a lesson or two about life in the process.
Seasons one and two are on Netflix.
For teen drama with a touch of the surreal, watch Riverdale
The CW's hard-abbed, pouty-lipped Archie adaptation is most obviously the descendant of teen dramas like Gossip Girl, Dawson's Creek, and 90210, and, yes, supernatural fare like Twin Peaks. But if Riverdale's leads act like students at Constance Billard, they talk like kids from Sunnydale High, with dialogue full of pop-culture jokes and callbacks that would make viewers whose primary language is Buffy Speak feel right at home.
Season one is airing on the CW.
For a heroine with heart, watch Jane the Virgin
It doesn't have vampires, demons, or magic of any sort, so Jane the Virgin is superficially the least Buffy-like show on this list. But if you're looking for a show with a complex female lead and a habit of using genre conventions to access emotional depth, Jane is Buffy's clear successor. For what it's worth, Gina Rodriguez also has a Sarah Michelle Gellar–level ability to cry on command.
Season three is airing on the CW. Seasons one and two are on Netflix.
If you love "Once More With Feeling," watch Crazy Ex-Girlfriend
The obvious comparisons: Buffy pulled off a musical episode. The CW's Crazy Ex-Girlfriend is a musical show. Beyond the show tunes, however, both series tap into heady themes — mental illness, misogyny, boob weight — underneath shiny, carefree surfaces. We can't wait for the inevitable Crazy-Ex episode where Rebecca convinces herself she can hunt down vampires.
Seasons one and two are available on Netflix.
For quips and crime fighting, watch Supergirl
If you're looking for another show about a badass woman who's also trying to figure out her ordinary life, look no further. The CW's Supergirl infuses rom-com tropes with various heroic capers, and in its second season, it's also leaned into a well-thought coming-out story.
Season two is airing on the CW. Season one is available on Netflix.
For dark and soapy shenanigans, watch Pretty Little Liars
Murder! Intrigue! Teens! If you condensed all the capital-D dramatic aspects of Buffy into a single show, you'd get something as chaotic and delicious as Freeform's Pretty Little Liars. Sure, nobody on PLL has been banished to hell, but just you wait.
Season seven is airing on Freeform. Seasons 1–6 are available on Netflix.
For a British spin on things, watch Crazyhead
Hailing from Britain's E4 and now on Netflix, Crazyhead teams a pair of mismatched "seers" who fight demons no one else can see. Think Buffy mixed with Misfits — Howard Overman, the creator of that show, also created this one. Here's a taste of Crazyhead's raucous sense of humor: The only way to kill a demon is to stick a pole straight up his ass.
Season one is available on Netflix.
If you secretly prefer Angel, watch The Leftovers
While Buffy remained fairly optimistic about human endeavor, its noirish spinoff Angel hypothesized that life is futile battle against the forces of darkness, made only meaningful through your decision to continue fighting. If you vibed with that idea, watch HBO's stunningly grim The Leftovers, and despair.
Seasons one and two are available on HBO GO.