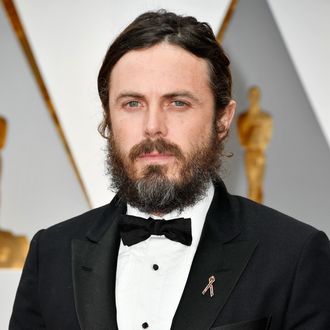 Casey Affleck.
Photo: Frazer Harrison/Getty Images
On Sunday night, Casey Affleck won a Best Actor Oscar for his role in Manchester by the Sea, despite the fact that two women accused him of sexual harassment on the set of his 2010 mockumentary I'm Still Here. (Affleck denied the allegations, and the suit was settled out of court.) In part because Affleck has the support and protections of his big brother, Ben, and his friend and Manchester producer Matt Damon, those allegations never stuck to Affleck during awards season, though some in Hollywood, including actress Constance Wu, spoke out against him.
In an interview with the Boston Globe after his Oscar win, Affleck made the surprising decision to address the controversy after keeping quiet during awards season. "Affleck paused and sighed heavily" when the Globe reporter brought up the allegations, noted that both sides are prohibited from discussing the matter as part of the settlement, insisted that those condemning him don't know the details, and then added:
"I believe that any kind of mistreatment of anyone for any reason is unacceptable and abhorrent, and everyone deserves to be treated with respect in the workplace and anywhere else."

"There's really nothing I can do about it," Affleck added wearily. "Other than live my life the way I know I live it and to speak to what my own values are and how I try to live by them all the time."
While Affleck navigated through awards season without having allegations against him significantly affect his campaign, Nate Parker — the writer, director, and star of The Birth of a Nation and an early Oscar favorite — was brought down in a large part by a scandal surrounding a college rape charge. The scandal-ridden Mel Gibson, meanwhile, rode a comeback that led to two Oscars for his film Hacksaw Ridge.