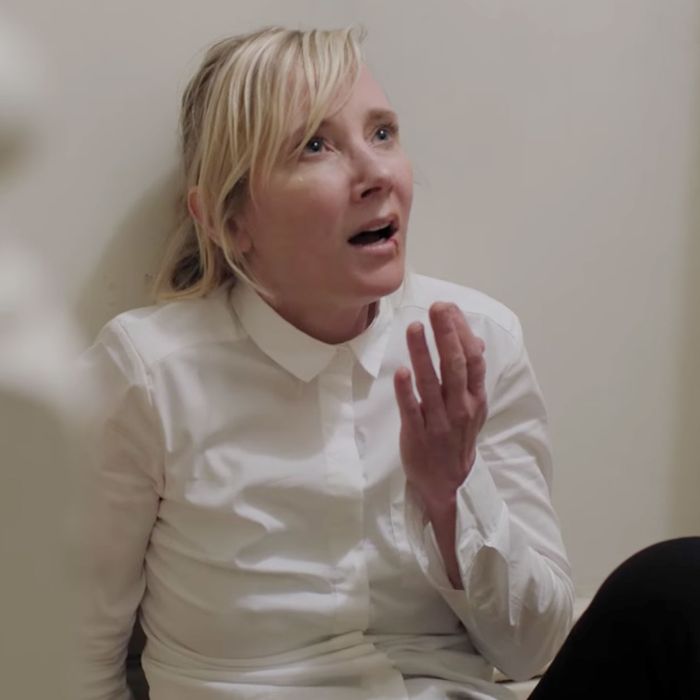 Anne Heche in Catfight.
Photo: MPI Media Group
The psycho-comedy Catfight is overwrought and underbudgeted, but director Onur Tukel gets a lot of points for what people in showbiz call "making strong choices and going with them." When he manages to hit his marks it's a bang-up movie — weirdly potent.
Sandra Oh and Anne Heche are former school friends who bump into each other when one's fortune is up and the other's down. Oh is the wife of a rich industrialist who stands to make a lot of money from an imminent Middle East war, Heche the lesbian painter whose splashy cynicism makes her not right for these upbeat jingoist times. In a few scant minutes, the women bring out each other's self-doubt and resentment, and there really is a catfight. There are three of them, actually, only with crunching blows instead of cat scratches. And they have horrific consequences.
The fights are literally hit-and-miss, by which I mean that not all those blows are expertly faked. For well-faked blows, watch the Zoe Bell movie Raze, in which a series of mostly nice women are forced to beat one another to death. Or better yet, don't watch it. In any case, these actresses might not be fighters but they throw themselves into it. Oh has that good, long face that looks like Munch's The Scream when she's about to lose control, while Heche is like a stripped power line throwing off lethal sparks. I'm still dismayed by Heche's fall from the front ranks, apparently because people thought she was crazy. (She wrote a memoir called Call Me Crazy.) She should have been the next Debra Winger. Come to think of it, Debra Winger should have been the next Debra Winger — but that's another subject. Maybe there's still time for Heche, anyway.
Among Catfight's many pleasures is Alicia Silverstone as Heche's abrasive girlfriend (her baby-shower scene hits home) and Ariel Kavoussi, with her helium voice, as Heche's assistant, who draws bunny comics that eventually come into fashion. Dylan Baker plays the "comatose doctor" who greets each woman when she wakes up and tells her that her insurance has run out. This is the future, if not the present.
Tukel takes a big risk in Catfight: using farcical means to weave together personal and political tragedies, so that each dimension feeds the other. The rough edges and occasional clunks are a small price to pay.