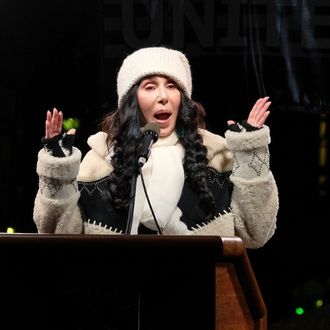 Cher at an anti-Trump rally in NYC, January 2017.
Photo: D Dipasupil/Getty Images
In the heady early days of the you-know-who administration, a raft of political projects surfaced across television and film. Now, in the inevitable unclenching that followed, those projects are suffering the consequences. According to Page Six, Cher has exited the Flint Water Crisis film — called, simply, Flint — set up at Lifetime. Reportedly, there's a "serious family issue" for Cher to attend to and she'll no longer be starring in the film (though, she's still attached as executive producer for the time being). The project is based on a TIME magazine story by Josh Sanburn from last February and Katie Couric is also attached as a producer — both facts indicate this is set to be more than your average Lifetime film. Flint is expected to go ahead as scheduled with new casting. And, if Cher leaving seems like a real moment of crisis for the production, remember that the Flint Water Crisis itself has still not been resolved.