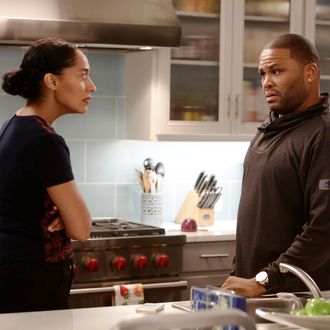 Rainbow (Tracee Ellis Ross) and Dre (Anthony Anderson) in Black-ish.
Photo: Nicole Wilder/ABC
Chris Brown has made some news lately, but not good news: In recent months, the troubled performer has been ordered to stay away from his ex and has reportedly been suffering from serious drug addiction. Today, however, some positive spin comes in the form of a forthcoming guest spot on the ABC series Black-ish. As Stereogum reports, Brown is set to guest-star next week in the role of rapper Rich Youngsta, who Dre will work with on an ad campaign. Dre "becomes conflicted when Bow and Ruby provide feedback suggesting [the campaign] plays on stereotypes," according to an ABC episode summary. Brown's appearance on the family-friendly show may prove controversial, given his recent (and not-so-recent) past, but as of now the network and series are moving ahead with the guest-starring role. (It's worth noting that the episode would have been produced before Brown's most recent headlines.) Still, Brown's presence does seem an odd fit for a show that tends to address uncomfortable topics head-on: What might the justice-driven, feminist matriarch Bow (Tracee Ellis Ross) think about someone like the real Chris Brown, we wonder? Maybe that's a plotline for Black-ish season four.