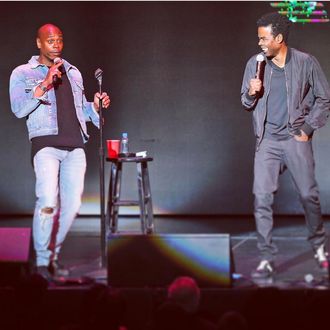 Dave Chappelle and Chris Rock.
Photo: NOLA.com/Michael DeMocker
There's no mistaking that 2017 is, so far, a banner year for stand-up. Thanks to hungry fans and streaming services, it's currently not uncommon to see some novel and marvelous bit of news about a stand-up comedian on nearly a weekly basis. Well, that list got one item longer last night, when a crowd of New Orleans Chris Rock fans — hoping to catch the veteran comic on The Total Blackout Tour — instead got to see Rock co-headline a 90-minute set with Dave Chappelle.
You read that right: As Complex is reporting, fans waiting for Rock after sets by Jeff Ross and Eric Andre first got Chappelle (who got a standing ovation) and then Rock, too, who joined him in what Chappelle called "a social experiment." The two then shared the stage for roughly the same length of time you'd spend watching, say, Half Baked, trading jokes like it was no big deal at all. As celebrity and civilian fans alike blasted over social media, it was one of those "Where were you when this happened?" comedy moments. That distant sound you hear is Netflix and HBO execs slap-fighting each other to green-light the Rock-Chappelle co-special first.
As you may be aware, Chappelle's most recent Netflix endeavor proves he's still got it: