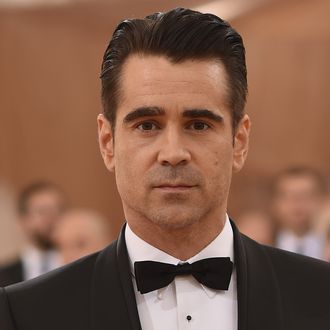 Colin Ferral.
Photo: Dimitrios Kambouris/Getty Images
Lest you think the executive branch of the government operating outside the laws set by Congress sounds far-fetched (somehow), let Colin Farrell remind you of the long-ago 1980s and the Iran-Contra affair. According to Variety, Farrell is set to play Oliver North in mini-series on Amazon about the international arms scandal. Though North might be best known now for his long-running Fox News show War Stories With Oliver North, during the Reagan administration the Marine Corps lieutenant colonel was then serving as a staff member on the National Security Council. During the Iran-Contra affair, which involved the government selling weapons to Iran to influence the release of seven hostages held in Lebanon by Hezbollah, North helped to set up a method of giving the money from the sale to the Contras fighting in Nicaragua. Congress had previously prohibited government funds from going to support the Contras.
The series will not only be a return to TV for Farrell, who starred in the second season of True Detective, but will also pair him once again with director Yorgos Lanthimos. Lanthimos directed Farrell in The Lobster.