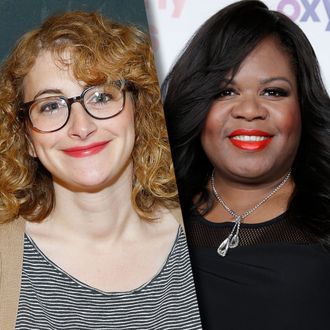 Jo Firestone and Yamaneika Saunders.
Photo: Getty Images
Like many things in comedy, the gender disparity in hour stand-up specials is consistently staggering. For one specific example, of the 20 English-language specials Netflix put out in 2016, only two were by women. Things have already improved in 2017, with women making up four of the fifteen specials the streaming giant has put out, but the gap is still noticeable.
The situation is not cut-and-dried, though. Stats are going to be influenced by both how prolific comedians are and how many other opportunities they are getting: The pool of stand-ups networks can draw from is largely based on already-established comics, meaning previous bias factors in, and it can be difficult for up-and-coming talent – especially women – to get noticed in the first place. The point being there need to be more female comedians progressing through the stand-up stages, and that will take time.
So, to that point, here is some good news. Last year, when we revealed Comedy Central's list of half-hour specials, we pointed to a Sara Schaefer tweet that noted the gender divide has been decreasing each year since 2008:
With another announcement of half-hour specials comes another Schaefer tweet of more good news:
Progress progresses and that is nice. Also nice is the list of 2017 half-hour specials is filled with great comedians:
Adam Cayton-Holland
Anthony DeVito
Jo Firestone
Solomon Georgio
Casey James Salengo
Sam Jay
Josh Johnson
Joel Kim Booster
Lashonda Lester
Chris Redd
Yamaneika Saunders
Julio Torres
Shane Torres
Jenny Zigrino