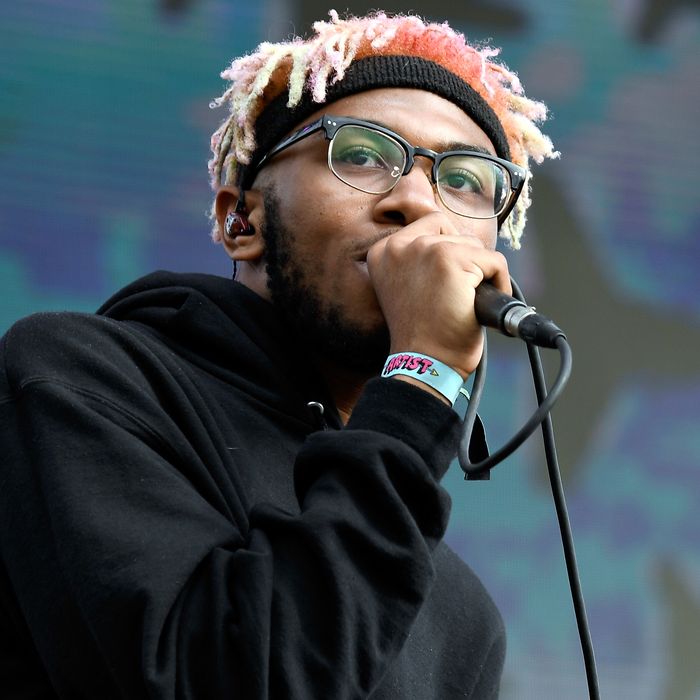 Photo: Frazer Harrison/Getty Images
A month after writing about my own experience of the messy symbiosis between hip-hop and homophobia, I remain struck by just how many rap fans claim to be unbiased while subscribing to a network of prejudices that would suggest otherwise. A few times a week now I get called homophobic slurs by a guy who says it's because he merely objects to the suggestion that he might be a homophobe. They are bigoted conservatives' mirror images, more concerned with fending off accusations of hate than doing the soul-searching and footwork that would help end it for good.
When you share pieces of yourself in your work, you risk seeing those pieces being turned into weapons and lobbed back at you. Cold, objective distance shields you from personal attacks, but it's too restrictive to live in all day. This is why I've gained a new respect for the Texas rapper Kevin Abstract over the past year, and why his show Friday night at the Studio at Webster Hall felt like I was coming up for air. Abstract's sophomore studio album American Boyfriend: A Suburban Love Story was, among other things, his coming out story, from the video for opener "Empty," where a secret fling with a closeted football player goes horribly wrong — I swear this is a nod to Patrick and Brad from The Perks of Being a Wallflower — to the closeted fears of "Miserable America." I can't think of anyone who has done quite the same with a studio album; even Frank Ocean sent a letter out in advance of singing about boys on channel ORANGE.
Friday night's performance of the "Miserable America" sidestepped all of the ideological rap-fan baggage I've been mired in all year. The audience knew every word and screamed along, even to lines about fearing the wrath of homophobic family members and a significant other's racist kin. Someone draped Abstract in an upside-down American flag near the song's end, while the drums went double-time, and another buddy stage-dove. It felt like something was reclaimed. This ragtag band of friends of different sexual orientations and ethnicities is America, too. Throughout the night, Abstract, his producer DJ Romil, and the audience dismissed fissures in taste and identity that trip up meatheads like fault lines.
The ease of access to the Studio's back bar suggested that most of this 16-and-up show's attendees were underage. Their pliability is probably owed to missing all the years where music fandom meant choosing sides between genres and subgenres. Romil's energetic DJ set of Lil Uzi Vert and Travis Scott tunes moved the crowd just as powerfully as Abstract's more limber lyricism and breezy melodies would later on. Slippery genre detours like American Boyfriend's shoe-gazey "Papercut" and the dream-pop title track didn't cost the set any energy. When the artist told the crowd to grab a random dance partner during the latter, many obliged, as he explained that he was trying to recreate a prom experience he missed in high school.
American Boyfriend resonated with the sweltering Studio at Webster crowd because it is pridefully, excitedly weird. It spills out into a dozen different moods, never apologizing for interests that don't seem to fit with one another. It's a confused blur of forward motion; it's like growing up. The Webster show is proof Abstract's stage show has been refined to match his recorded output in the years since his promising debut MTV1987. (I caught a show behind that album that honestly I remember more for people-watching on the sidewalk afterward with the guys than anything that happened onstage.) The album is finding an audience without bombarding the interview circuit or springing for vocals from more popular artists. This is just a group of friends winning over the country, one hot, crowded room of screaming kids at a time.