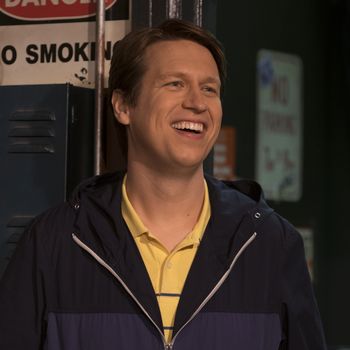 For three episodes, Crashing has meandered about, trying to bring together its various elements — Holmes's persona, the trials and tribulations of stand-up, Apatowian dialogue and/or vignette-like narrative style — into a coherent whole, and it's mostly come up short. That is until this week's episode. "Barking" is the first episode of Crashing that feels both unique to the show's point of view and entirely in sync with the series' best rhythms. Credited writers Pete Holmes and Judd Eric Sloven (Saturday Night Live), as well as director Jeff Schafer (The League), take a simple premise rooted in the unsexy minutia of stand-up — Pete must "bark" all night, or hand out fliers for a comedy club, in order to get stage time — and construct a funny, empathetic episode about the occasional joys of begging for scraps. It goes without saying that this is the best episode of Crashing so far.
The episode begins with Boston comedy-club owner Jason (Dov Davidoff) instructing Pete on how to bark, which mostly comes down to a genial yet pushy tone of voice, endless persistence, and, of course, lying. Jason tells him that if he gets five people to pay to see the showcase that night he will receive some stage time. So Pete, along with three fellow comics (Henry Zebrowski, Jermaine Fowler, and Aparna Nancherla), who are less green and constantly wary of Pete's amiable charm, hit street corners to earn their time.
This setup allows for various comic exchanges to form organically rather than just tacking them onto a loose premise. Pete, ever the ethical, straight-and-narrow type, doesn't like the idea of telling people that famous comedians like Jerry Seinfeld and Chris Rock will go up at some tiny showcase, but he also feels the pressure to get five people in those doors by any means necessary. Naturally, this leads to funny confrontations, like with a couple offended by the idea that a flyer can advertise comedians who won't perform, which forces Pete to defend a practice he himself was arguing against earlier that day ("If you go to an Italian restaurant and there's a picture of Frank Sinatra, it doesn't mean he will be there!").
Holmes effectively communicates how degrading it is to be shilling for a job that offers exposure over actual pay. When he leaves his corner to find a restroom, he's forced to pay $9 dollars for a Coke at a bar just to have the privilege to urinate. When he returns, he finds another barker at a different club has stolen his corner. Determined to grab his corner back, he stands defiantly next to the other barker, trying to regain control, which eventually leads to a fight, a stranger's broken car window, and a traffic accident. What does Pete do after witnessing this crazy series of events? He sheepishly hands out flyers to horrified passersby at the scene, still trying to make his number.
The humiliation doesn't end there. Soon, Pete's fellow comics inform him that Hannibal Buress is onstage at the Boston, but Pete only gets to see a few minutes before Jason kicks him out because he hasn't pulled his necessary five people. Heartbroken, Pete's back out on the corner telling people to go see Hannibal, but now the few people who care don't believe him. Before, Crashing mostly paid lip service to the idea that a stand-up career is one Kafkaesque struggle after another, but "Barking" is the first episode to effectively depict it. One quick shot of Pete's raw, worn-out face is all the evidence a person needs to know this job isn't for the faint of heart.
By the end of the episode, Pete receives a few signs of encouragement. First, comic Marina Franklin finds Pete on the street to tell him she's sorry Jason wouldn't let him stay to see Hannibal, and that every established comic has been in his exact position before. "If it sucks, that's when you know you're doing it right," she tells him plainly. Overjoyed at this self-esteem boost, Pete eventually makes his number and gets onstage, but of course, the crowd is sparse since most everyone left the show after Hannibal was done. But in one last stroke of luck, a large group of Korean tourists, whom Pete previously helped find the Blue Note, arrives en masse to see the show, giving Pete and his fellow comics the appreciative audience they've been dying to have. It's a powerful moment, one that was neatly foreshadowed midway through "Barking." Pete's hard work isn't for naught, and by the end of the night, he has a de facto group of friends, while Jason gives him notes on his set and promises to put him on earlier in the night tomorrow.
"Barking" is just focused and streamlined enough to give me hope for Crashing right when I was getting worried about its staying power. This is a show that frequently has all of the right ingredients, but occasionally the wrong recipe. "Barking" brings them all together, and for the first time, provides a glimpse of what this show could be with just a little bit of creative tightening.
Stray Jokes
• When Pete voices his concerns about lying to strangers, the other comics shrug it off. "They're stupid tourists. Who comes to New York and doesn't have a plan?" "Yeah, they're gonna end up at a Panera Bread or getting human-trafficked."
• Pete eventually seeks advice from a weed-dealing NYU student about getting his turf back, but he doesn't have much to offer. "I don't really have a turf," he says. "I just walk around with a face that says, 'I have weed.'"
• After Jason expresses dismay that Pete couldn't pull more people after Hannibal showed up, Pete explodes, "That's the problem with lying, Jason. Nobody believed me when I said he was here! It's like the boy who cried Seinfeld out there!"