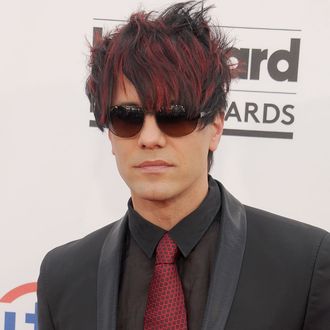 Photo: 2017 Getty Images/WireImage
In news that shouldn't surprise you too much, performing risky stunts in straitjackets isn't particularly safe, folks. Please do not try this at home! Popular magician and illusionist Criss Angel — who's been a long-standing performer in Las Vegas with his numerous nail-biting shows — reportedly ended up in the emergency room last night due to a severe incident at his Mindfreak Live! gig at the Luxor Hotel. Per TMZ, Angel was performing an act that required him to dangle upside down in a double-straitjacket and attempt to escape, but after "spinning in vain for about two minutes," he was lowered down from the act and the curtains closed. He was brought to a nearby hospital after "passing out," but was deemed well enough to be released later in the evening.
This hasn't been the only injury in the magician slash illusionist community recently. David Blane spoke out about how he accidentally shot himself while doing a stunt last year and believed he was going to die in that moment.