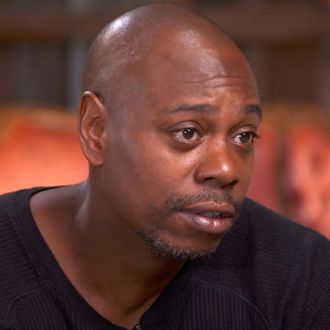 Ahead of Dave Chappelle's two Netflix specials, the comedian is clarifying his thoughts on Key & Peele. Despite the fact that many thought he had beef with the sketch show, Chappelle says he never hated it — it's just that he resents them getting credit for doing a style of comedy that he fought hard to pioneer on his show on Comedy Central. On CBS This Morning, Gayle King asked Chappelle what he thought of the other comedians' work. "I think there was a speculation that Dave doesn't like Key & Peele," King began (that would be putting it mildly — last October Chappelle said he's been "watching Key & Peele do my show the last five fucking years"). Chappelle responded that he's a fan of the show, and went on to explain why the sketch show's style was a bummer for him during its run:
"I fought the network very hard so that those conventions could come to fruition," Chappelle said. "So, like the first episode I do, that black white supremacist sketch. And it's like, 'Well, that's 10 minutes long. It should be five minutes long.' Why should it be five minutes long? Like, these types of conventions. I fought very hard. … So when I watch Key & Peele and I see they're doing a format that I created, and at the end of the show, it says, 'Created by Key & Peele,' that hurts my feelings."
No hard feelings, but Chapelle would like a title card noting his contribution.