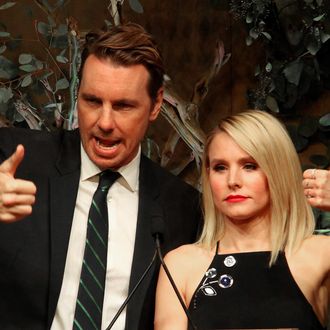 Kristen Bell and Dax Shepard.
Photo: Tommaso Boddi/Getty Images for Baby2Baby
Apparently all it takes is one fight over ugly furniture and a decade-long #relationshipgoal goes to hell. Kristen Bell told Dateline's Keith Morrison that her husband Dax Shepard implemented the beginnings of a plan to gender-swapped Gone Girl her when he googled "how to get away with murdering my husband" on Bell's phone. But Shepard is no Amy, because he messed up, planting the evidence in front of Bell and paving the way for her to expose his frame job. Preemptive strike aside, Morrison thinks that Bell may still find herself in a sticky situation "for even thinking about it … If anything at all happens to him, it's your phone, it doesn't say who googled it." A chilling thought to be sure, but not as chilling as Morrison's next remark: "You know about antifreeze, right?" Child, please. Like there's a rap Veronica Mars can't beat.