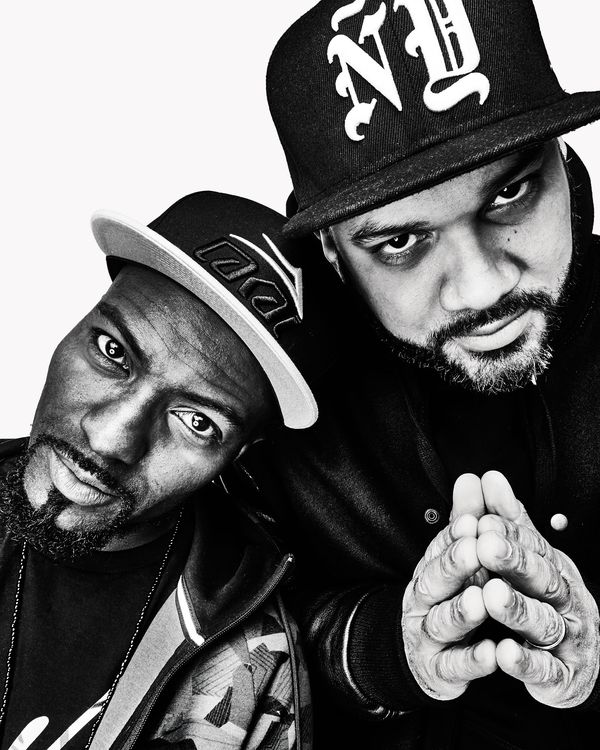 Desus and Mero.
Photo: Bobby Doherty/New York Magazine
"They're probably happy here now that Trump is president," the Kid Mero says, attempting to empathize with the sea lions in front of him. We're at the Bronx Zoo, watching the gray-whiskered creatures swim around and flop on the rocks, and it's taken a total of four minutes for the president to invade the conversation. "They're like, 'Yo, we're safe in here, they're feeding us fish, we won't get deported.' "
His friend and collaborator Desus Nice disagrees. "Trump would shut this place down. Like, 'No, it's animal welfare. Make them try to get jobs. Release them into the streets.' "
" 'Get them outta here,' " Mero continues. " 'These seals need to be working to earn their keep.' "
Since October the pair has starred in Desus & Mero, a late-night show on Viceland, Vice's joint 24-hour cable venture with A&E Networks. It's among the young network's most-watched programs, and it features the two of them sitting in chesterfield chairs (in front of a taxidermied bear clad in Timberland boots and a Yankees hat) and riffing on, most frequently, the intersection of race and culture with the news. That's included discussions of everything from the Louisiana congressman who dressed up as Tiger Woods in blackface to videos of a white college kid in Arkansas proving he was sober by juggling for the cops. ("If I do that and go in my pocket, [Desus is] rocking an RIP MERO shirt on the next show," Mero joked on-air.) Their online following — Desus has 349,000 Twitter followers, Mero 86,400 — drives viewership and sets up the jokes. As Mero was live-tweeting the Grammys, for instance, he got 1,027 likes and 301 retweets for "IM IN ADELES PHONE AS 'MERO BLACK FRIEND' " — referring to the singer's post-win declaration that Beyoncé's Lemonade meant so much to her and her "black friends" — and the next day many of those people tuned in for the follow-up conversation. (Desus: "Adele, we were rooting for you! Why'd you have to do that?")
Both men are from the Bronx and attended the same summer school during high school. But they didn't become friends until much later, when each, separately, found fame as an early adopter of Twitter around 2009, "talking about the same shit all the time," Mero recalls. At the time, Mero was working as a teacher's assistant, making $20,000 a year, and Desus was a writer for a financial magazine where the paychecks would often bounce. "I used to get to work, log in, and just be there from like nine till six tweeting nonstop," Mero says. Mero liked to broadcast his observations in caps lock — "KEITH URBAN LOOKS LIKE MILEY CYRUS IN 2028" — while Desus helped popularize punch lines like "peak caucasity," which he would use to, say, summarize cover art for Cracker Barrel gospel albums, a website called whitenessproject.org, and one particularly memorable photo of a woman riding the subway with a diapered lemur on her head.
The tweets led to other gigs: Mero wrote for Vice's music website, Noisey, in the same all-caps-lock style, and DJ-ed at the Williamsburg bar Baby's All Right. ("I went out there and played mad bodega music for niggas with trust funds, and shit worked out," he explains.) But it was when the pair found themselves in the same circles offline that they realized they had in-person chemistry, too, and things really took off. They began a Complex video series and a still-running podcast called Bodega Boys — the inspiration for their TV show — on which Mero lights a blunt, Desus cracks a beer, and they talk about the week. "That's the raw, uncut dope," says Mero.
They haven't dialed it back that much for TV. Every episode bears a disclaimer saying that the show doesn't reflect the opinions of Viceland. Desus and Mero understand why it's there — they say whatever they want, for the most part — but, Mero says, "I feel like the disclaimer should just say: 'White people, you may be offended.' " (One postelection riff had him promising to pass gas in yoga classes as revenge against white women who, as a demographic, voted for Trump.) As we walk by a group of puffins, Desus pulls up a screenshot from a couple of days ago, when a woman messaged him on Twitter saying, "My husband and I watch Viceland, and last night when we turned on the show, my 5-year-old son came staggering out. He heard a statement about white people, looked at me, and said, 'Mommy, does this man hate us?' "
"It's like, 'Your kid didn't say that! Your kid's not that astute. He came to ask you for another yogurt,' " Mero says.
Today, both men are wearing hoodies under winter jackets, hoods up over baseball caps. Mero, 32, who is taller and Dominican, has three kids and a fourth on the way. He often acts as a hype man on-air, bursting into laughter with an exclamatory Yo!, his eyebrows almost always raised. Desus, 34 and single (with a cat), has the thinnest outline of a beard. He's a touch more serious and usually leads the conversation by asking most of the questions during guest interviews and pulling Mero out of their laughing fits to introduce the next topic.
The show, despite airing at 11 p.m., is nothing like the typical monologue-to-celebrity-interview-to-musical-guest of most late-night fare. (Promotional videos for Desus & Mero promised, "No white guys.") It feels more like a FaceTime conversation than highly produced cable TV. So far, the guest interviews have mostly been with friends. (MSNBC'S Chris Hayes came on because he went to elementary and middle school with Desus; he told a story about how Lin-Manuel Miranda, who went to Hayes's high school, was bullied by the kid who would grow up to become the rapper Immortal Technique.) "Every person that comes on to do an interview with us, at some point, if you look at the raw footage, they're like, 'Yo, what's going on here? Are you gonna ask me questions or are we gonna talk about Target for 25 minutes?' " says Mero. "The thing is, we might fuck around and talk about Target for 25 minutes."
Lately, they've been thinking a lot about the so-called Trump bump in their ratings, which they suspect might be a contributing factor to their early success, a notion they find complicated. "It's like if you go to a party and they say there's going to be light refreshments and you get there and it's mad trays of food and you're like, 'Yo! What the fuck! I didn't expect this!' " Mero explains. "And then at the end of the party someone's like, 'We got all this food from the Dumpster.' "
We walk past the flamingo cage, where the birds are out despite the freezing temperature. "Hos don't get cold!" jokes Mero. The zoo is making them nostalgic: In front of the rain-forest birds, they reminisce about the times they used to cut school and come here on Wednesdays, when it was free to enter. "And you'd just see all the truancy cops coming in," Desus remembers. "Everybody would just start running … It's like the cops knew they were just going to catch the slowest people because the whole high school was there." They both still live in the borough where they grew up. "People always ask us, 'Your names are out there now. How do you feel about that?' " Mero says. "And I'm like, 'Yo! Our government names are very generic.' " Desus adds, " 'If you want to find Joel Martinez and Daniel Baker in the Bronx, be our guest. You're gonna find a list of 50,000 people.' "
*This article appears in the March 20, 2017, issue of New York Magazine.
*The original version of this article incorrectly stated that Desus's high school was Hunter College High School.