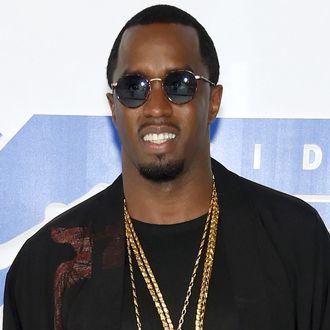 Photo: Jamie McCarthy/Getty Images
Today in mo' money, mo' problems: A group of former employees is bringing a reverse-discrimination suit against Revolt TV, Diddy's music cable network. In the suit, a production team of five white men over the age of 39 allege they were discriminated against for not being young, hip, and black. Douglas Goodstein and his four producers — alums of The Howard Stern Show — say that Revolt's executive vice president Val Boreland "treated the African-American staff in a much friendlier and respectful manner," according to court documents obtained by "Page Six." The men found that Revolt's corporate environment was unlike any they'd worked in before: The guests were late, a production assistant arrived to the office drunk one time, and an assistant director had some incendiary opinions, even going so far as to allegedly say that "Caucasians harbored racism against African-Americans." For Goodstein & Co., this could not stand.
"The animosity Mr. Boreland had towards Caucasians was clear," the suit says according to "Page Six." When one of the plaintiffs complained about the guests being late and unprofessional, he was given a response the suit says was "clearly referring to African-American culture and/or African-American hip-hop culture, which [the producer] assumed he did not understand because he was Caucasian." The team was fired in December 2014, replaced by producers the suit characterized as younger, black, and with less experience. Diddy, they'll see you in court!

Update March 22: Diddy and Revolt TV's legal representation reached out to Vulture with this statement: "These claims are without merit and have previously been dismissed by the EEOC. Revolt Media and TV, LLC has always been committed to diversity in the workplace and is an equal opportunity employer."