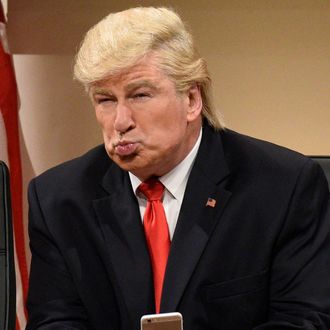 Have you heard?! Donald Trump doesn't really love Alec Baldwin impersonating him on Saturday Night Live. He has expressed his extreme agitation about it numerous times, chiming in on social media with pleasantries such as "the Baldwin impersonation just can't get any worse" and "Alec Baldwin portrayal stinks." (And that's not even including his thoughts on SNL as a whole. "Media rigging election!") It's now been a few months since the president last weighed in on the comedic matter at hand — despite plenty of provocation on Baldwin's end — but wait, and you shall receive. In an interview on Fox News' Watters' World, Trump had some new Baldwinian thoughts that he just couldn't wait to share. Asked by Jesse Watters who he would "fire" out of the trio consisting of Baldwin, Sen. Chuck Schumer, and CNN head Jeff Zucker, Trump responded with the following.

I think the Alec Baldwin situation is not good. Chuck I'm very disappointed in, because he's a guy who should make deals for the people. Instead he's just an obstructionist. So, I'm disappointed in him. And Jeff Zucker, I mean, I got him the job. And CNN is just, you know, fake news. Who would I say? I just, I don't want to say, but I will say I'm disappointed in all three. I think the portrayal of me is ridiculous.
Ah, yes, that pesky "Alec Baldwin situation." It really makes you wish for simpler times, doesn't it?

Here's a supercut of Baldwin's best moments playing Trump: