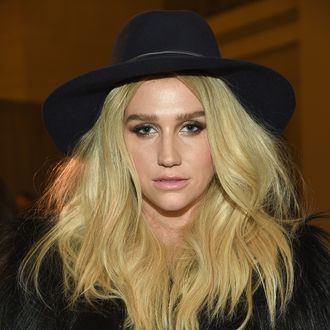 Photo: Dimitrios Kambouris/WireImage
In the depressing ongoing legal battle between Kesha and Dr. Luke, which has seen various court cases brought and dropped, and involved even Kesha's mother (twice), Dr. Luke has now set his eyes on subpoenaing one of the singer's loyal fans. Billboard reports that court documents obtained on March 10 revealed that writer/producer Lukasz "Dr. Luke" Gottwald's lawyers had moved to subpoena Michael Eisele, who runs the fan Twitter account @KeshaToday and helped organize the #FreeKesha protests.
The motion claims that Eisele "closely coordinated" with Kesha to help spread the "defamatory statements and tarnish the plaintiff's reputation." The document also alleges that Kesha helped Eisele create "bogus Internet 'petitions' and engag[ed] in other tactics to pressure Sony Music Entertainment to terminate its business with Plaintiffs." According to Dr. Luke's lawyers, Eisele is necessary to the case because of information he possesses.
Kesha and Dr. Luke have been legally duking it out since 2014. After a few months of little activity, the public fight reemerged with Kesha releasing emails from Dr. Luke last month.