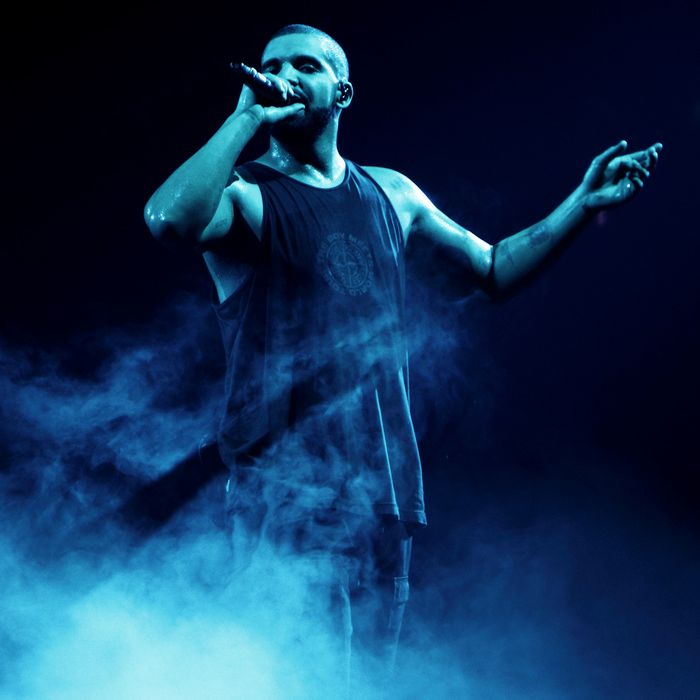 Drake.
Photo: Burak Cingi/Getty Images
Drake categorized his new project, More Life, as a playlist rather than an album or a mixtape because it's less one-man venture and more a showcase of musical influences. These are songs that pull from all corners of the globe — an international palette of sounds that Drake and his OVO hive have been collecting and broadcasting on their Apple Music radio show since its first episode went live. More Life borrows and builds on Atlanta trap, U.K. grime, Afro house, dancehall, R&B, Afrobeat, and more, more, more, spanning eras and nations, offering something here for everyone. If it's your first introduction to any of these worlds and you want to go deeper, allow us extend the playlist with a few related musical cues.

Sampha, Process
Twice on More Life, Drake hands over the reins to another artist. As many have noted, it does the playlist plenty of favors and the generosity also affords the listener a look at an artist they might not know. Drake has worked with Sampha in the past — on "The Motion" and Nothing Was the Same's "Too Much" — but "4422," which begins with a blunt-sparking intro from Lil Wayne, is a Sampha solo affair. It's a lot like his debut album Process – aching, introspective, and elegant. Drake doesn't appear on this song at all, so it's essentially a new Sampha song tossed on the playlist. And there's a helluva lot more where it came from on Process.

Skepta, Konnichiwa
Skepta might just be Drake's favorite person in the whole of the U.K. He's the one who seemingly got Drake hooked on grime — so much so that Drake now frequently co-opts the flow — and made him passionate about supporting the movement, which existed long before Drake got hip to it. Drake tattooed the initials of Skepta's label, Boy Better Know, on his shoulder, so it's no surprise that Drake also gave Skepta his own song (an interlude, actually) on More Life for their first proper "collaboration." Skepta murders the opportunity for "the love of Britain"; hear him do the same on his debut album Konnichiwa.

Giggs, Landlord
Staying in London, More Life presents more British rap via Giggs. He's featured on the album twice ("No Long Talk" and "KMT") and each time he enters the record, he switches up the whole tone. ("KMT" also samples a live version of Skepta's "Shutdown.") He's a swaggering, blistering presence on his own; next to Drake, he's an unruly force. His fourth album, Landlord, came out last year and you can bet Drake hasn't stopped figuring out ways to imitate it ever since.

Dave, Six Paths
Although he's not credited, the 18-year-0ld Dave, another rising British rapper, is featured on More Life. He's the one rambling at the end of "Teenage Fever," likely the result of some late-night studio hangout in London. He and Drake have a short history: Last year, Drake remixed Dave's breakthrough hit "Wanna Know" (blame him for Drake's love of the word ting) and now here they are together again.

Jorja Smith, Project 11
Jorja Smith is only 19 years old, but she's impressive enough to be given two looks on this playlist — once on an interlude named after her, then in the following track duetting with Drake on "Get It Together." Both songs come at the top of the project, which is a lot of confidence in a barely known soul singer out of the English Midlands. But her voice is spellbinding and rises to the occasion. You don't let just anyone sing over Stevie Wonder's harmonica and, yet, there she is.

Drake, Take Care
Speaking of Stevie, that harmonica on "Jorja Interlude" isn't new, but actually samples Take Care's "Doing It Wrong." It's so like Drake to call back to his own past work, but that's the point of this project: re-centering and going back to where he started to get to where he's going. More Life does a lot of tracing roots that never quite existed for Drake, but ones we first started to hear grow on Take Care. The slowest, moodiest, sappiest love songs on More Life draw a direct line back to Take Care. So perhaps this project's greatest influence was Drake himself.

Jennifer Lopez, On the 6
Only Drake could cut Jennifer Lopez from "Get It Together" — a song they made together and got caught possibly filming a video for — then put her business on blast on another song ("I drunk text J. Lo / old number so it bounce back"), and then sample her own damn song on yet another one of his. If there were a Petty Olympics, Drake would be undefeated. He uses the chorus from Lopez's "If You Had My Love" for the hook on "Teenage Fever," screwing it so that it doesn't sound like her. But the J.Lo obsession goes further than that. Drake could've borrowed from any era, but he went for her best album, her debut On the 6. (The whole "6" thing being the most obvious reason.) That album, too, was a cultural crash course in all things pop and Latin fusion. A song like "Waiting for Tonight" might only loosely inform "Get It Together," but the connection is there.

Black Coffee, Home Brewed
At some point during Drake's education in African music, he discovered the South African DJ/producer Black Coffee and, therefore, the style of Afro house. "Get It Together" uses Black Coffee's 2009 hit "Superman" entirely and almost without alteration, except for replacing the original vocalist Bucie with Jorja Smith. It's a sound and formula practically identical to Drake's last venture into a style of Afropop, "One Dance."

Moodymann, Cutloose set
This isn't an album, but rather a 2010 set from Detroit house DJ Moodymann that Drake samples at the very end of "Passionfruit." Yep, that's Moodymann (not Drake's dad, as some people mistakenly thought) doing all that talking (at 37:39, below). Yet another sign that Drake had deep house on his mind during the making of this album.

Hiatus Kaiyote, Choose Your Weapon
What's a rap album without a soul intro? More Life begins on "Free Smoke" with a pitched-up sample of Australian soul quartet's "Building a Ladder," which is the last track on 2015's Choose Your Weapon — so you know Drake really listened.

Wizkid, Ayo
Though he's not involved in this particular Drake project, Nigerian Afropop rising star Wizkid's prints are all over More Life. He's there in spirit on "Madiba Riddim" and even "Passionfruit." Previously, Wizkid appeared on Drake's "One Dance" and Drake also hopped on Wizkid's "Ojuelegba." So if this is more classic Drake erasure, it's particularly egregious.

PartyNextDoor, P3
PND has been signed to Drake's OVO label for years, so it's never shocking to see his name all over a Drake project. He's less of a presence on More Life, but he gets a lot of time to do his sedated singing on "Since Way Back," just like he did throughout his latest project, P3.

Migos, Culture
Migos's Quavo is featured on "Portland," but it's fair to say Migos are featured all over More Life, since Drake mimics their phrasing several times. And you get the sense that, had Drake not kept the production for himself (or perhaps Migos gave them to Drake?), the beats for "Sacrifices," "Gyalchester," and "Free Smoke" could've been found on Culture.

Lionel Ritchie, Can't Slow Down
We'll give Drake this: The dude is in on the joke. He's very much aware of the flak he's caught for cashing in on Caribbean culture and he's even more aware that he's not the first to be guilty for it. "Blem," this project's big dancehall song, briefly samples Lionel Ritchie's equally Caribbean-lite "All Night Long" at the outro, which is just about the best wink of a troll Drake has ever pulled.

Earth, Wind & Fire, Gratitude
Yes, that's Earth, Wind & Fire's "Devotion" generously sampled at the end of "Glow." And yes, it's a live version from Gratitude. Kanye West did all the production on this song and that man has never shied away from handpicking popular songs to sample. You have to think this was his and Drake's way of paying tribute to the late Maurice White.
Various Artists, Sonic the Hedgehog OST
You might've recognized that the entire beat for "KMT" was lifted from the theme for Sonic the Hedgehog, "His World," so that now it's just Drake's World. But if you like your video-game background noise in its true form, untouched by Drake, here, live your best pixelated life.

Nujabes, Spiritual State
Flute in rap is far from a novelty – if you go back to the golden era, it was everywhere. (Beastie Boys' "Flute Loop," anyone?) There are so many songs and artists we could point you to that Drake likely drew inspiration for the flute in "Portland" from — though, honestly, it was probably just Future's "Mask Off" — but the late Nujabes was such a master at it that it'd be disrespectful not to highlight Spiritual State here. ("Spiral" especially.) And Dilla. So much Dilla.