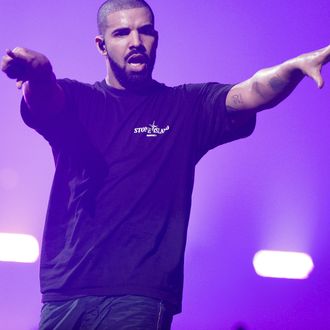 The 6 God returns.
Photo: David Wolff - Patrick/Redferns
Whether it's a "playlist," mixtape, loosely defined project, or some new unforeseen form of music entirely, Drake's More Life is here. Drake premiered More Life on his OVO Sound Beats 1 radio show on Apple Music. The 22-song (!) project features everyone from Kanye West to Skepta to 2 Chainz, includes the previously released "Fake Love," and samples the chorus to Jennifer Lopez's "If You Had My Love" on "Teenage Fever" just to really stir the pot. "This project is a celebration of the fact that we're all still here, still going," he said in its introduction. And as previously reported, it's streaming outside Apple Music, on both Spotify and Tidal, making this the first non–Apple Music exclusive Drake's done since signing with the service. A stream for the album on Tidal comes with this note:
More life. More time with family and friends. More life. I've still got vibrations to send. More life. They say that we could live forever At night I pray it's true I've done so much in my short time and still there's more to do But if someone should come collecting Sooner than we're all expecting At least the life you lived was one for you."
It's his first new project in nearly a year, since last April's Views. Back in simpler times when we called these things albums.