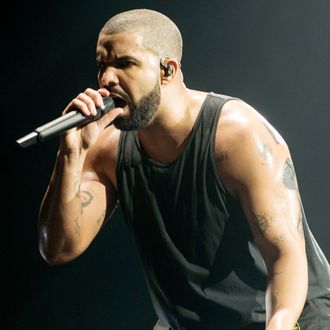 More more more.
Photo: Ross Gilmore/Getty Images
Drake's More Life playlist may not have a proper single given the medium, but it has already spawned two hits. After claiming the No. 1 spot over the albums chart — and setting a monstrous streaming record to do it — Drake's More Life has taken over the Hot 100. All 22 songs on the playlist are charting, giving Drake an astounding 24 songs simultaneously charting on the Hot 100 in a single week. It's a new record that, of course, breaks the one he set himself just last year when he had 20 songs charting at once after dropping Views. (He's also reset the record for most-ever songs to debut in a single week with 21.) But more importantly, More Life has also claimed two big spots in the Hot 100: Both "Passionfruit" and "Portland" have debuted in the Top 10, at No. 8 and No. 9, respectively. So once again, fans have come to a consensus on a project's standout tracks before its artist ever has to. Drake is only the second artist to have two songs simultaneously debut in the Top 10 after Ed Sheeran did it first just a few weeks ago.
And as if Drake didn't have enough bragging rights to woo his sought-after conquests in drunk texts, here's another: With these 21 new More Life tracks charting ("Fake Love" was already on the charts), Drake now has 154 total songs that have made the Hot 100, giving him the title for most Hot 100 hits for a solo artist in Billboard history. Who'd he pass to get there? None other than his boss Lil Wayne. (The cast of Glee is still the overall leader with 207.) Meanwhile, his label mate Nicki Minaj just passed Aretha Franklin for the solo female artist with the most Hot 100 hits, meaning life at Young Money is more than good.