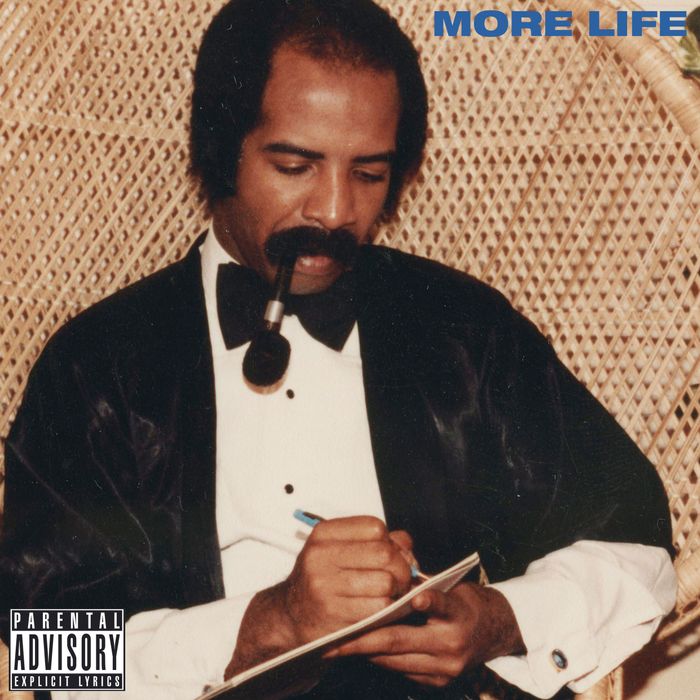 Views was Drake's Carter IV, a long-simmering passion project that came out as overcooked as you'd expect after a two-year wait; it was a critical toe-stub too commercially successful to be called a flop. It tried to reach too many different audiences and ended up being too much for everyone. Drake is rarely one to admit a misstep, but when he began promising new work just six months after Views' spring 2016 launch, it seemed like he was anxious to put the project behind him. Views was more than just a too-long crossover record from a rapper suddenly too sure of his range, though. It was a missed opportunity to snatch back some of the acclaim as a lyricist that was lost in the 2015 dustup with Meek Mill, when the Philly rapper blew up on Twitter and confirmed Drake's use of an outside writer on their collaborative track "R.I.C.O." A figure as ambitious as Drake doesn't settle for news that his album is the best-selling release of its calendar year if there's palpable displeasure with the quality of the product.
So now we have More Life, 22 new Drake songs with the stated mission of carrying the free-spirited jitteriness of his OVO Sound Radio show — where rap, grime, R&B, house, and dancehall intersect in mixes crafted by Drake, his manager Oliver El-Khatib, and a host of special guests — off Apple Music's Beats 1 station and out into the world. To this end, everyone within a mile of the thing has taken to calling it a "playlist" rather than an album or a mixtape, because Drake suggests how he wants a new release to be processed by dictating the medium he wants it digested as. When he wants to try out young, untested production talent (If You're Reading This It's Too Late) or pal around with Future in Atlanta for a week (What a Time to Be Alive), we get a mixtape. When he's ready for harsher scrutiny, he'll call the thing an album.
Drake's declining to call More Life an "album" after the mixed reaction to Views gave some pause. Was this an attempt to push back goalposts and score easy points after a less-than-stellar outing? Was Drake courting collaborators he feels too restricted in his "proper" albums to work with? Was he finally delivering a full-fledged OVO Sound compilation? The finished product isn't arranged very differently from a standard Drake album. The notion that his art needed new methods of presentation is a laugh, since neatly arranged 60- to 80-minute auditory therapy sessions are as natural to him as hooks and memes.
Call it whatever you like. More Life is the best Drake … whatever in years. It's less purposefully insular and forbidding than If You're Reading This, whose best songs often detoured into quirky skits and changes to challenge themselves. It feels tighter and more accomplished than Views despite a longer running time and a much shorter gestation. It's not a fast rebound; it's a restructuring of its predecessor's guiding principle. At first pass, it doesn't seem like smart business to revisit the structure and scope of Views, since that album's less visionary portions dragged like quicksand, but More Life zips across styles with a confidence that makes the prior album look like a blueprint. Maybe the last year of radio reminded these guys that they're actually whizzes with sequencing.
Pick any three-song bit of More Life, and you'll find a dizzying gearshift. A particularly visionary run hops from South African house ("Get It Together") to Afrobeat ("Madiba Riddim") to dancehall ("Blem"). There's a grime collab ("KMT") next to a Jennifer Lopez interpolation ("Teenage Fever"). These hairpin turns are executed by a production team in perfect concert. OVO Sound's heavy hitters are all onboard, alongside Canadian luminaries Murda Beatz, Stwo, G. Ry, and Jazzfeezy, and half a dozen others. Texturally, each cut is a playground, from the blunt attack of the grime rave-ups to R&B tracks that build and demolish stacks of sound like high tide claiming sand castles. The principal members of this group have been playing at this kind of depth and sprawl for a decade, but More Life is more vibrant and varied than what they were pulling off together even a year ago. This record's compass never steadies for long, but Drake comfortably abides the twists, dialing his wordplay up or down according to the guest and the beat. He's a swag rap brat on "KMT," a chillout singer on "Get It Together," and a wordy introvert on "Sacrifices."
Drake marches on with the same sneakily globalist approach to linguistics here that he showcased on Views' flashbang combo of "One Dance" and "Controlla," where his dialect snapped between borrowed Caribbean and Yoruba tones like channels on a television. We've established that he is a world traveler who loves London, Kingston, Toronto, Soweto, Calabasas, Memphis, Houston, etc. But it's still disorienting to hear the guy code-switch through so many slang and speech patterns, to look for a more static Drake amid More Life's scheduled turbulence and never find it. He can feel like the friend who vacations in SoCal and comes back saying "hella" every day, or the one who returns from charity work overseas professing a "spiritual connection" to a community that wears off when the next obsession surfaces.
More Life doesn't stress whose lingo is whose any more than Views did — less, if anything — but the slippery games it plays with speech tend to grate a little less now because we have had a year to wrap our heads around them, and because all the songs actually hold together this time. The root of why Views is a slog is that Drake was losing touch with the reasons people gravitate to his music. The writing started to err on the side of universal themes and less on his signature brand of ultraspecific reflection. The practice made the album feel like a very deliberate pop pivot, and a hollow one. Public admiration of Adele and Taylor Swift seemed to spell Drake's intentions out even clearer, and the music leaned into those artists' surgical craftsmanship, as well as their poor batting average with deep cuts. You lose yourself when you tailor your writing to the perceived interests of an audience instead of luring them in with your own truth, and it's never long before you start to lose them too. People hate being marketed to.
Near the end of More Life, Drake loses his cool and hashes all of this out in a song. Verse two of "Lose You" captures a rapper whose success has come at the cost of public sympathy. Someone's changed, and he refuses to accept that it's him, so he asks a string of harrowing questions — "Why is my struggle different than others?" "What do you see when you see me?" "How they go from not wanting me at all to wanting to see me lose it all?" — like a mate whose fear of getting dumped has fried his sense of shame. The writing on More Life is often this unnerving. "Madiba Riddim" is about trying to override a natural distrust of strangers to learn to love someone new. "Nothings into Somethings" is a codeine-drunk rebuke of an ex who didn't think to invite him to a wedding he knows he wouldn't dare show up for.
Drake rings truest as a paragon of irrational male feelings. Exes are pined for long after they've moved on. Bottled feelings bubble over when drugs and drinks start to flow. Self-worth balloons in friends' company but bursts in quiet solitude. More Life's harsh shifts in tone are faithful to the experience of being a big, dumb brute who craves independence one minute and validation the next, who is supposed to seek joy in spite of these contradictions when it feels more natural just to break underneath them. These songs present a gallery of partnerships suffering because of a kink in some power dynamic: business relationships souring through jealousy, girlfriends who changed their phone numbers at the first hint of infidelity, and fans not served by their favorite rapper's rebirth as a global pop singer.
More Life is also a pledge to win everyone back. The bedroom jams will appease fans of So Far Gone, while the grittier rap cuts recall If You're Reading This. "Jorja Interlude" calls back to the earlier "Bria's Interlude" and "Cece's Interlude," while revisiting the Stevie Wonder harmonica solo from Take Care's "Doing It Wrong." "Skepta Interlude" cedes a whole track to the grime veteran the way "Buried Alive Interlude" once did for Kendrick Lamar. (Skepta practically runs off with the whole album, too.) If you're looking for event collaborations, Travis Scott and the Migos' Quavo bring a wall of Auto-Tune and ad-libs to "Portland," Young Thug and 2 Chainz prove they're two of Atlanta's finest on the stunning "Sacrifices," and Kanye and Drake duet triumphantly on "Glow," in spite of chilly words between both parties this year. If you came for scandal, you can sniff around for veiled shots toward Meek Mill, Tory Lanez, and others.
There are those who'll inevitably gripe about how long this "playlist" is and others still who'll accuse Drake of gaming Billboard and the Recording Industry Association of America, since buying or streaming all of More Life's 22 tracks sets it on a path to both organizations' sales and streaming certifications at double speed. (The RIAA, for instance, counts ten track downloads as a single album, so every full More Life sale counts twice. Expect a platinum plaque soon.) But it is dangerous to speak of music like containers in a cargo bay, discussing worth in terms of weight. The fact is, More Life earns the right to spill out over 81 minutes since it spends all of them recouping on So Far Gone's promise of this kid uniting fans of R&B, indie rock, synthpop, and Screw music. Who the hell cares how many songs it takes to get that done?