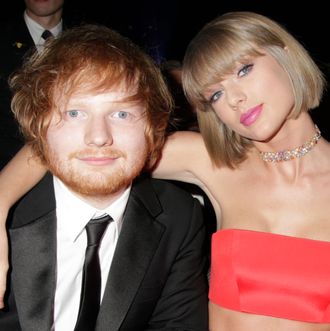 Don't leave your girl around me, true playa for real.
Photo: CBS Photo Archive/CBS via Getty Images
The only perk of being friend-zoned is that you're hardly the only one there. When Ed Sheeran found himself among Taylor Swift's massive clique, being friend-zoned meant he got to be the one dude in Taylor's girl gang: Sheeran, a weed, in a bed of roses. And bed them he did, as Sheeran recently bragged to Rolling Stone. Though the singer is currently in relationship, he said that while on Swift's Red Tour he spent many a post-show nightcap with a mystery member of Swift's squad. "Taylor's world is celebrity. I was this 22-year-old awkward British kid going on tour with the biggest artist in America, who has all these famous mates. It was very easy," he boasts. "I would often find myself in situations just kind of waking up and looking over and being like, 'How the fuck did that happen?'"
The identity of Taylor's friend who hooked up with Sheeran remains a partial puzzle. Sheeran and Ellie "Destructa X" Goulding appeared to exchange subliminals on song shortly after that tour, but Goulding has been vague about the specifics. That only leaves Lorde, Selena Gomez, [insert model here], and any number of women who could be mistaken for being in Haim. Sheeran has since been demoted to twice a year hangouts with Swift and gifting her "arts and crafts Christmas presents." ("He is the James Taylor to my Carole King," she says.) In other news, here's a photo of Sheeran getting cozy with another Swift friend who has since moved on.