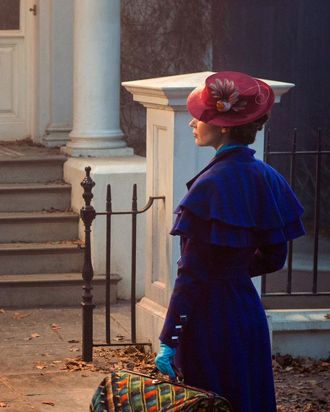 Supercalifragilisticexpiunrecognizable.
Photo: Disney Enterprises
Those lips! That nose! That half of an ear! Who else could it be? Disney, via Entertainment Weekly, has released a first look at Mary Poppins Returns, a sequel to the 1964 musical which stars … hmmmm, let's just check our notes to be sure … Emily Blunt as the titular magical nanny. The cast also includes the supremely British Emily Mortimer and Ben Whishaw as the now-grown-up Banks children, Jane and Michael, alongside Lin-Manuel Miranda as a lamplighter, Angela Lansbury as a balloon vendor, Meryl Streep as Mary's cousin, plus Colin Firth, Julie Walters, and more. Directed by Into the Woods' Rob Marshall, Mary Poppins Returns will float into theaters on December 25, 2018, when we'll finally get to see the other two-thirds of Blunt's face.