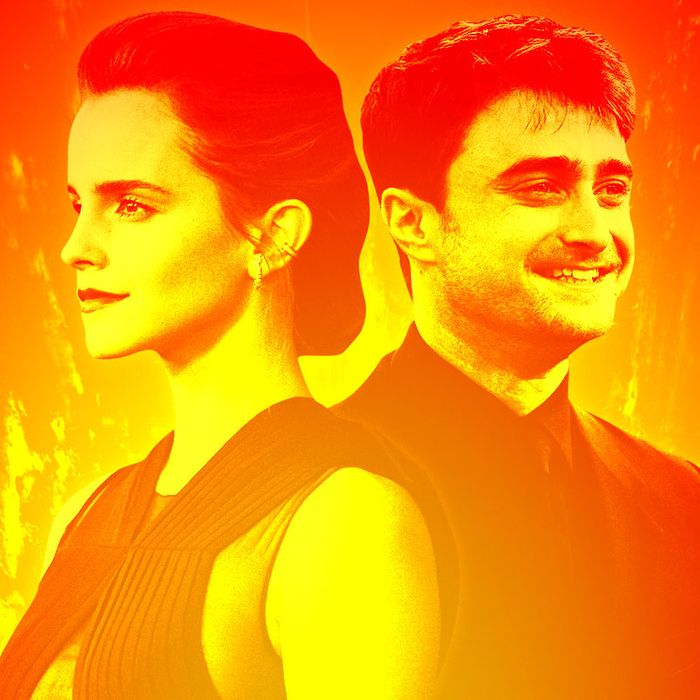 Emma Watson and Daniel Radcliffe.
Photo-Illustration: Maya Robinson/Vulture
For a decade, Daniel Radcliffe, Emma Watson, and Rupert Grint were the faces of the Harry Potter franchise, the major entry point for the millions of fans who loved the films. When the movies ended in 2011, the three young actors faced an unenviable challenge: After ten years of convincing the world that they were Harry, Hermione, and Ron, they now had to show them that they weren't. With Watson's Beauty and the Beast pulling in the same kind of opening-weekend numbers that Harry Potter and the Deathly Hallows Part 2 once enjoyed, it's fascinating to consider just how different Watson and Radcliffe's approaches have been to forging a career after Potter — and how those approaches essentially represent the two different avenues available to actors post-franchise. (Grint works mostly in TV now.)

When Harry Potter and the Sorcerer's Stone came out in 2001, Watson and Radcliffe were 11 and 12 years old, respectively. Over the course of the eight Potter films, neither really worked outside the franchise: Watson lent her voice to The Tale of Desperaux and starred in a BBC movie called Ballet Shoes, while Radcliffe acted in the indie December Boys. Their careers outside of Hogwarts only really began in 2011, with Watson taking a small supporting role in My Week With Marilyn and Radcliffe the lead in the period horror piece The Woman in Black.
Since then, Watson has acted selectively: She did The Perks of Being a Wallflower in 2012 and Sofia Coppola's The Bling Ring in 2013, then made a cameo as a particularly dangerous version of herself in This Is the End. In 2014, she played the daughter in Darren Aronofsky's big-budget Noah, then made a pair of indies in 2015, The Colony and Regression, neither of which made an impact critically or commercially. At the same time, she's been very clear that acting isn't her only interest — that, in fact, she'd be just fine without it. She went back to school, graduating from Brown, worked successfully as a model, and became a prominent activist, helping to launch a gender-equality campaign called HeForShe as a U.N. Women Goodwill Ambassador.
Radcliffe, on the other hand, has thrown himself into acting with zeal. Alongside his well-received parts in theater, he has taken a series of eclectic indie-film roles, including a grieving boyfriend who gains hellish powers (Horns), a romantic lead (What If), an FBI agent posing as a skinhead (Imperium), a flatulent corpse (Swiss Army Man), and Allen Ginsberg (Kill Your Darlings). He also made two excursions into the studio world, playing a stuck-up bad guy in the bizarrely loaded cast of magic caper Now You See Me 2, and co-starring as Igor in the 2015 flop Victor Frankenstein.
Unlike the vast majority of young actors, Watson and Radcliffe have no financial reason to ever act again in their lives; they have the freedom to take jobs only because they want them, not because they need to pay the rent. It's interesting, then, to see the different motivations behind their choices. Radcliffe was more or less the perfect leading man for the Harry Potter franchise, the platonic ideal of what most people saw when they read the books. If Radcliffe the actor ever wanted to have a career apart from the Boy Who Lived, his first priority was to find roles in which he could differentiate himself. A horror movie was a good start. From there, Radcliffe pursued parts that were edgy, adult, and unconventional, culminating with his, uh, idiosyncratic performance in Swiss Army Man, a film that made prominent use of his erection.
But with these movies, he also showed good taste, as well as a dedication to turning in committed, unpretentious performances. Aside from Victor Frankenstein, which at least had the good sense to partner him with another charming performer in James McAvoy, all of Radcliffe's work has been well received and added to his post-Potter identity. His future as a serious leading man seems rich, though the question remains whether he'll return to mainstream studio movies, particularly considering that so many of them rely on actors playing only minor variations on their most familiar roles.
Watson has followed a different path. As an actor, she hasn't faced the same problem Radcliffe did: While she's recognizable to much of the world as Hermione, she isn't as fundamentally identifiable as the character, and has grown only further apart from her as she's gotten older. Where the Hermione of the novels is a frizzy-haired bookworm, Watson was the face of Burberry; hell, she just played a character the film's title literally called a "Beauty." While an actress like Watson will always face more bias and judgment regarding her looks than her male co-stars ever will, she never had the dilemma of looking too much like one character, and not enough like the accepted standard of beauty.
As a result, the roles she's chosen show a bit less willful difficulty, and a bit more interest in reaching, if not the widest possible audience, then a significant portion of it. With The Perks of Being a Wallflower, Watson took on a revered young-adult novel, and in The Bling Ring, she gleefully attacked a stranger-than-fiction true story that also had a generational relevance, while also getting the chance to work with Sofia Coppola. In Noah, she popped up in an expensive epic directed by one of the most noteworthy filmmakers of the last couple decades. When Watson has worked as an actor, she's worked like a movie star, culminating with this spring's one-two punch of Beauty and the Beast and the adaptation of the Zeitgeist-courting novel The Circle, will likely to secure her status in the upper echelon of Hollywood. Where Radcliffe has sought transformation in his acting, leading to parts that are challenging and distinct above all else, Watson appears more interested in stories with grand narrative weight and significant cultural resonance, from the Biblical flood to beloved novels to a Disney landmark.
Oddly, Watson's two upcoming movies also reflect a strange alternative world. At one point, Watson had been tapped to star in La La Land, a part that just won Emma Stone an Oscar. Her role in Beauty and the Beast was the reason she had to drop out, and it seems worth it in many ways: The movie seems poised to make a bajillion dollars, and the movie's version of Belle doubles down on her substantial commitment to gender equality and female empowerment.
If Watson made a sacrifice in that exchange, it's the kind of instant cachet as an actor that comes with an Oscar-worthy role. But Watson is doing just fine regardless, as is Radcliffe, who, you get the sense, would be ecstatic to star in a Damien Chazelle movie. Either way, in their very separate paths to success following Potter, both actors have made their situation work for them — and neither seems like they'd want to trade places with the other.