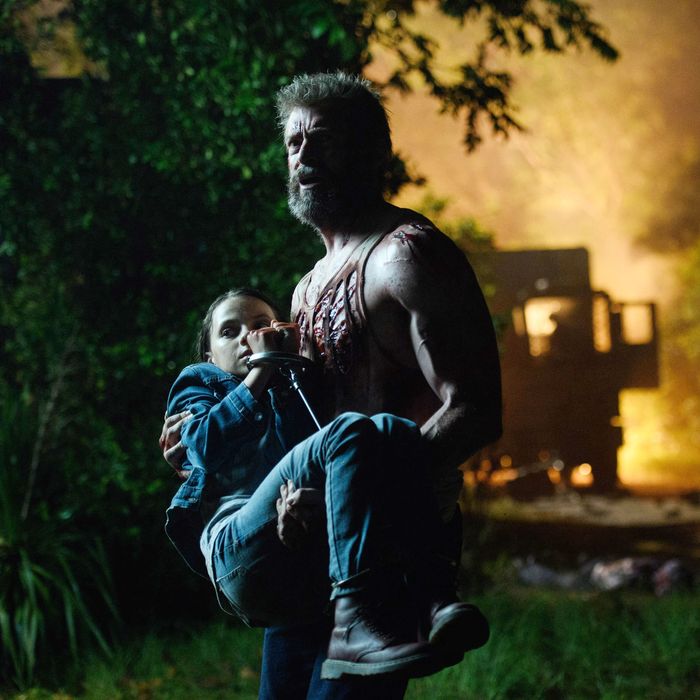 Hugh Jackman and Dafne Keen in Logan.
Photo: Ben Rothstein/Twentieth Century Fox
Mild spoilers for Logan below.
The ending of Logan isn't a cheery one, but at a recent New York screening of the film, at least one audience member walked out of the theater giddy: Chris Claremont, the most influential X-Men author of all time. "Hey!" the 66-year-old Brooklynite quietly cheered to himself when the special-thanks section of the credits popped up. His name was there — a fact that he had been unsure about beforehand, as the studio and filmmakers had never reached out to him in relationship to the movie. Indeed, he hadn't even been invited to the screening, which is sadly not uncommon for comics writers and artists who made the stories Fox's X-Men movies are based on. (Vulture brought him as a plus-one.)
In this case, Fox did the credits right, thanking Claremont alongside classic X-creators like Dave Cockrum, Len Wein, and Claremont's most famous collaborator, writer/artist John Byrne. Such inclusion is deserved. Over the course of Claremont's incomparably long and uninterrupted run with the characters, from 1975 to 1991, he crafted a dizzying array of their most famous tales, many of which have been translated into film and television: "Days of Future Past," "The Dark Phoenix Saga," and "Legion," just to name a few.
He was very involved in the conception of the first X-Men movie in 2000, but his influence on the film adaptations has waned. He's now entirely on the outside, just watching as an audience member with a critical eye and passion for the characters. When it came to Logan — a story that isn't based on one of his own, but which stars his beloved Wolverine, played by Hugh Jackman for the final time — he was mostly impressed, though not blown away.
"What I love about Hugh Jackman is he just brings all the elements of my vision of Logan," Claremont told me as we cruised in a cab along the West Side Highway, headed toward his home. "The pain, the nobility, the duality of his existence." That duality has to do with his relationship toward the X-Men's founder, Charles Xavier, played once again by Patrick Stewart. "Logan wants to be more like Charles. He wants to be a man, but there's the animal in him. In a way, James Howlett" — Wolverine's birth name, which the hero uses instead of Wolverine throughout the film — "is a superhero costume. For him, the superhero costume means being a normal person, pretending to be a normal person."
I asked Claremont if the title character's death happened in a way he might have envisioned during his decade-and-a-half writing him. He chuckled and said, "No, because I killed him two or three times already!" It's true: There were a pair of Claremont tales in which Wolvie died and came back, once through a resurrection built on a single drop of his superhumanly regenerative blood. He also co-created two characters who appear in film form here (neither of whom are Wolverine, who preceded his run on the X-Men by a few months): the villainous Donald Pierce and the mutant-tracking Caliban.* He was pleased with Caliban, though he always envisioned the character having a New York accent, not actor Stephen Merchant's British brogue. He was less impressed by the portrayal of a character created by others that he featured in spin-off series The New Mutants: earth-moving mutant Rictor. He only has brief stints on the screen, but Claremont felt those moments were at least "more interesting than a lot of his appearances" in the comics that followed Claremont's departure from the X-books.
Overall, the X-master said any of his "quibbling" was "just me wishing for perfection." He was much more pleased with Logan than he has been with film adaptations of some of his past work. "Within the context of the two hours of film, all the pieces fit together really nicely," he mused. "And some of the moments within the context of the film were genuinely horrifying and genuinely sad for good, cinematic storytelling reasons." Still, he didn't think it achieved the high melodrama his own run was known for: When I asked if he cried, as many audience members did, he gave me a little are-you-kidding-me look. "No," Claremont said. "But that may have been because I was desperately trying not to embarrass myself by having to get to the bathroom."
*This article has been updated to clarify Claremont's role in creating various characters seen in the film.