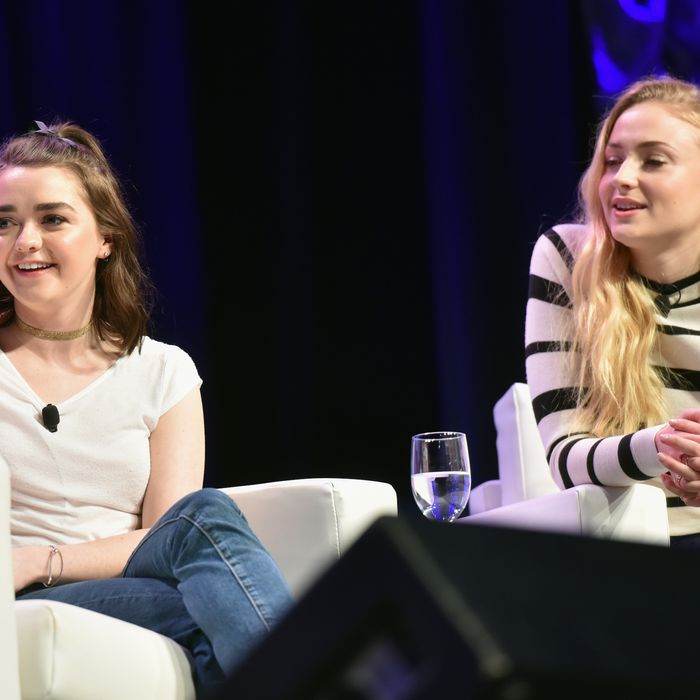 Maisie Williams (left) and Sophie Turner speak onstage at SXSW's Game of Thrones panel.
Photo: Amy E. Price/Getty Images for SXSW
At SXSW, it was Game of Thrones stars Sophie Turner and Maisie Williams's turn to put their bosses in the hot seat. "Let's get this party started," said an upbeat Turner, as she and Williams readied to fire away at their "fun uncles" — creators David Benioff and D.B. Weiss — getting them to dish on set pranks, season seven, and which house they most identify with in real life during the show's SXSW panel Sunday.
There was a lot of banter between the group, who didn't look ahead too much to season seven, though Weiss and Benioff did confirm that there will be six episodes for the show's eighth and final season, with the creators writing two episodes apiece. "We're going to fight over who gets to write which half, and who gets to kill Sansa," Benioff said to Turner. "We both wanted to kill Sansa so badly," added Weiss. (Joking, we're pretty sure.) Here is everything else we learned at the show's SXSW panel.
Ed Sheeran is going to be in season seven.
"For years we were trying to get Ed Sheeran on the show so we could surprise Maisie [Williams]," who is a huge fan, said Benioff. "And this year we finally did it."
Casting the Stark girls was the hardest — they looked at 300 girls for Arya alone.
"They start so young but we knew that if the show worked, they'd go to really dark places," said Benioff. "It was a tricky thing, casting people and hoping they'd blossom into the women that they've become. I remember for Arya that we looked at 300 different girls in England. We just could not cast her. We were sitting in this hotel lobby in Morocco — the only place we could get wireless — and looking at casting videos. There was a little thumbnail picture of Maisie Williams. There was just something about that little tiny thumbnail face that just seemed right. She looked about 7. Like she was 12, but going on 7. So we clicked on the audition video and waited about 40 minutes for it to download. When we saw that audition video she was just fucking awesome."
No one has become an asshole from all the fame.
"We got very lucky," said Benioff. "We got such a good group of people. When the show became successful, it's just so easy to get turned by that and become total assholes. And they haven't. Everyone has remained great."
"Well, except for one," Weiss joked. "We won't discuss him in public. [Under his breath, "Nikolaj Coster-Waldau."] Seriously though, you two weathered it in such a great way. To watch you guys become the actors you have, it's very gratifying to us."
Jason Momoa broke Benioff's hand.
Momoa (a.k.a. Khal Drogo) once broke David Benioff's hand during a drunken round of the slap game at a Belfast bar. "It seemed like a really good idea," said Benioff, until his hands started to swell up. Momoa is 250 pounds, but Benioff assumed he'd be faster. "I'm so not," he said. So when he got back to the States, after a month of his wife (Amanda Peet) taking care of their children by herself, his hand was the size of a catcher's mitt. "She's like, 'What the fuck is that?' And I'm like, 'Oh, I was playing the slap game with Jason Momoa.' And she was just so disgusted with me. She took me to the emergency room and the doctor did the X-ray and was like, 'Oh, your friend squished your hand.' Medical term. Don't play the slap game with Jason Momoa."
Benioff and Weiss first pitched the show to HBO as a 70-hour movie.
In the end it's going to be 73.

They really love playing practical jokes on cast members.
"We wrote a scene for Kit Harington where his face melted off," said Benioff. "There's a scene in the first season where he fights with a White Walker and it catches on fire and he burns his hand. So we wrote the script so that his upper lip would be all messed up and burnt off and we burned off all his hair. He's got great hair and a great pout, so we described on the page exactly what his mangled face was going to look like forever. He was a good sport, but you could tell he was really sad."
"We had a whole story about how HBO thought he felt too Disney, too Harry Potter," said Weiss, "and they wanted to ugly him up. He bought it for a while until David started laughing."
They told Alfie Allen they were going to kill him off in season two.
The best failed prank they pulled on a cast member was when they told Alfie Allen, who plays Theon Greyjoy, that they were killing him off. "We made the death call and we told him he was going to die, but we might bring him back as a wight," said Weiss. "We told him, 'And you're going to be naked the whole season.'" The only problem was he happened to be in Ibiza when they made the call, doing who knows what. "So we didn't catch him in a state where he was going to be shocked by anything," said Weiss. "Nothing we were telling him was more ridiculous than his own life."
The Stark sisters' hair has caused some issues on set.
Actors aren't supposed to change their looks between seasons, but before season seven, Turner dyed her hair such an intense white that the show couldn't dye it red without it all falling out. (Williams, meanwhile, came in with turquoise hair.)
Game of Thrones made Turner a feminist.
She said her proudest moment on the show was the aftermath of her wedding scene with Ramsay Bolton. "I'm quite proud of what that brought about," she said. "It led to a discussion about the taboo of rape, and it turned me into an activist."

They may have spoiled the show's ending.
"We identify most with House Lannister," said Benioff. "We want to win." "Is that a spoiler?" asked Turner. Benioff just buried his head in his hands.
Tyrion Lannister probably has the best line in season seven.
"What does he say?" Turner asked. "Something witty," Weiss replied. "You can write a crap line, and Peter [Dinklage] will make it great."
Is a dragon White Walker a possibility?
"Maybe," said Benioff. Every GOT superfan in the room gasped.
There may be an HBO spinoff, but Benioff and Weiss won't be involved.
"There's always going to be an urge for the characters who maybe will survive to do a spinoff show or a sequel show," said Benioff, reminding Turner and Williams that they'll both be dead. "And I think HBO might well do one. And we'll watch it. I think it'll be great, but I think it's important to get new blood in. New vision." And there's always a possibility, Weiss added, for a zombie Stark sisters show.