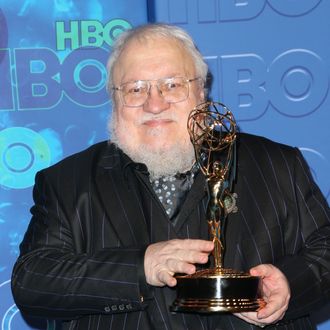 George R.R. Martin.
Photo: Frederick M. Brown/Getty Images
Look, we all know how hard it is to get stuff done. It's especially hard when you feel pressure. Like, the kind of pressure that might bear down on you to finish a long-running and desperately popular book series turned TV obsession. So it makes sense that George R.R. Martin, whose A Song of Ice and Fire book series eventually became Game of Thrones, would commit to other projects that might help distract him from the high-pressure task at hand: Martin will be opening a nonprofit foundation for film and television, called the Stagecoach Foundation, in his home city of Santa Fe, New Mexico.
As Rolling Stone reports, it's Martin's hope that the foundation will attract filmmakers to the state will help boost New Mexico's economy. Yeah, okay, great, we say. Help your state, sure. But when is The Winds of Winter going to be done? "Not done yet, but I've made progress," says the man who recently built a massive film studio from the ground up. Sure, we say. Sure.
Update, March 20, 2017, at 9:15 a.m.: On his blog, George R.R. Martin responded to reports of his "film studio," and set the record straight on some details he says are incorrect:
– the Stagecoach building is not 30,000 square feet. Someone pulled that number out of their ass, and dozens of other reports have repeated it. That's a rough approximate figure for MEOW WOLF, an entirely different place on the other side of Santa Fe. The Stagecoach building is perhaps a third that size,
– I did not "build" Stagecoach. David Weininger did that in 1999, as the headquarters for his compnay [sic], Daylight Chemical Information Systems,
– I am not "opening a film studio." Stagecoach is a non-profit foundation dedicated to bringing more film and television production to Santa Fe, it is not a film studio,
– there are no sound stages at Stagecoach (though there are several here in town, at the Santa Fe Studios and the Greer Garson Studios). It's an office building, and will be used primarily for pre- and post-production purposes,
– I am not going to be "running" a foundation, much less a studio. That task I've given to a dynamic young lady named Marisa X. Jiminez [sic], who helped open Santa Fe Studios here in town, and who will have total charge of the day-to-day operations of Stagecoach, under a board of directors.