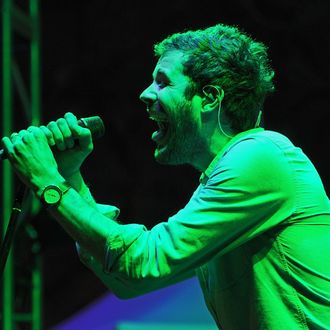 Passion Pit's Michael Angelekos.
Photo: Alli Harvey/Getty Images for Spotify
After an erratic past year in which they announced and then immediately cancelled a set of tour dates, today, the band Passion Pit offered up some new music — for free. But there's a catch: If you want a digital download of the slowly gestating album Tremendous Sea of Love, you have to spread a message the band has tweeted out in support of government scientists with the hashtag #weneedscience. Per Pitchfork, Passion Pit's bandleader Michael Angelekos handed the reins of his band's Twitter account over to a few scientists this past week, allowing fans to ask questions and raise awareness of the importance of supporting science and scientists and the funding that, in turn, supports their work. Angelekos had been slowly releasing a series of tracks that make up part of Tremendous Sea of Love via Facebook; recently he removed most of these. If you want access, get tweeting. After all, we all know you need music almost as much as you need science.