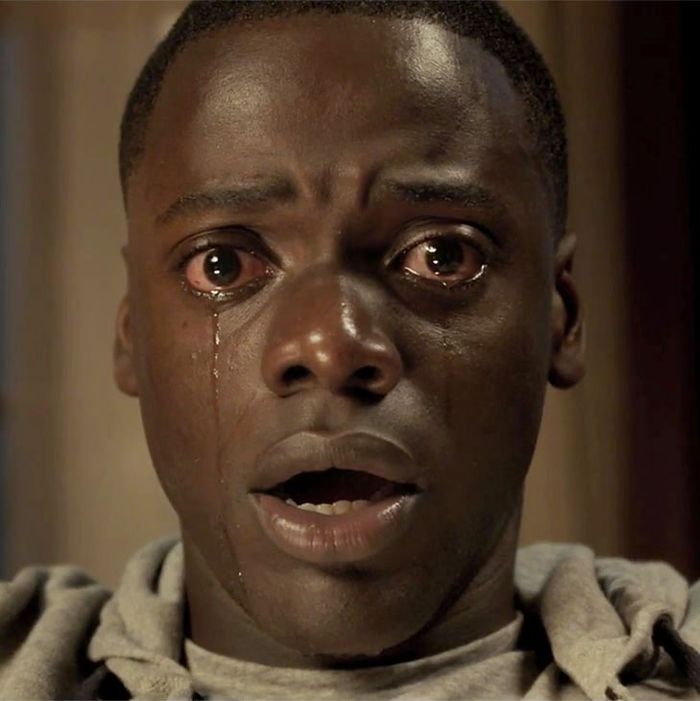 Get Out.
Photo: Sundance Film Festival
The Main Story
This weekend, Jordan Peele's Get Out — a movie that cost all of $4.5 million to make — grossed $21 million, bringing its domestic total to $111 million so far. Peele's directorial debut has been remarkably consistent, dropping only 25 percent in its third weekend of wide release after declining a mere 15 percent in its second, a sign that the movie's great word of mouth could conceivably keep it going strong for weeks to come. If so, what's already been a stellar year for horror should get even better.
Not even halfway through March, Get Out has already become the second horror movie of 2017 to cross the century mark in terms of domestic gross, following M. Night Shyamalan's Split, which currently stands at just under $135 million. (Both films hail from Jason Blum's Blumhouse, which should buy all of us a drink.) Last year, only one movie, The Conjuring 2, managed to make $100 million, and just barely, finishing its theatrical run at $102 million. In fact, *cue tense strings* you'd have to go all the way back to … *cut the lights* *something jumps out of the shadows* (don't worry, it's just the cat)

… 13 years ago to find the last time two horror movies cleared a hundred mil. In 2004, both The Grudge and M. Night Shyamalan's The Village topped $100 million, though not until very late in the year; The Grudge was a Halloween release. Between then and now, the closest you get is 2010, when Martin Scorsese's Shutter Island and Darren Aronofsky's Black Swan, which both had horror elements, each earned more than $100 million.
Actually, the phenomenon happens to be tied very closely to Shyamalan. In the last two decades, the only years that have produced more than one horror film that earned nine figures have been ones in which Shyamalan's put a movie out: 2017, 2004, 2002 (Shyamalan's Signs and Gore Verbinski's The Ring), and 1999 (Shyamalan's The Sixth Sense, The Blair Witch Project, and Tim Burton's Sleepy Hollow). With Split and Get Out solidifying the idea that horror is one of the few genres where you can make money without spending it, expect plenty more films of its ilk to hit screens in the years to come. Here's hoping they're more Get Out than Conjuring 2.

What Else Happened?
Kong: Skull Island was king of the box office, earning a solid $61 million and managing to beat out the juggernaut that is Logan. While Kong's take pales in comparison to Godzilla's $93 million opening in 2014, it does top the $50 million debut of Peter Jackson's King Kong in 2005. Even better, it added $81.6 million overseas; just like Godzilla, it should prove stronger there than Stateside.
Meanwhile, Logan built on its $88 million opening with just under $38 million, pushing it to $153 million domestically and a remarkable $438 million worldwide. In all of ten days, Logan has become the highest-grossing release of the year, a title it should enjoy for the short time before Beauty and the Beast hits next weekend. While Hugh Jackman's last stand won't touch the heights that Deadpool reached last year, it should keep climbing the top-grossing R-rated releases chart for the next few weeks, with an ultimate place in the top ten likely.
The other notable event from the weekend was the debut of Olivier Assayas's Kristen Stewart–starring Personal Shopper, which opened to a strong $23,129 average from four theaters, good for $92,516 and an improvement on the $20,603 per-theater average managed by Assayas and Stewart's last team-up, Clouds of Sils Maria. Vindication!