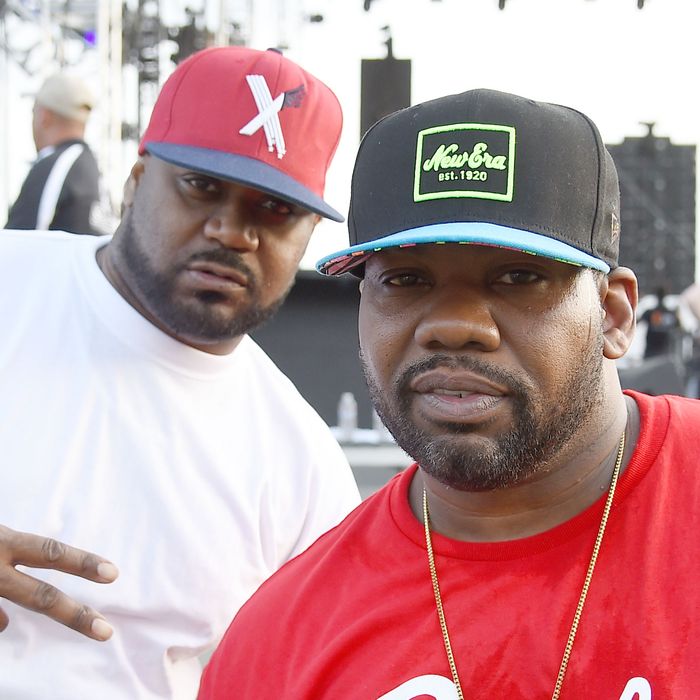 Photo: Frazer Harrison/Getty Images for Coachella
Getting older sucks, it's said. Your body betrays you, gaining weight, and as you lose illusions, your imagination fails you, too. The only way to stay relevant is to merge with an institution: a family, a party, a sports team, a job. The only thing to look forward to is dying alone.
When Raekwon released "This Is What It Comes Too" early in February, it didn't make a huge splash. Sure, the production for the song, lead single for his forthcoming seventh album The Wild, was on point, but it wasn't groundbreaking: just classic well-cooked, hard-nosed boom-bap drums topped off with a sustained string sample to add urgency. The verses were solid, but nothing to write home about. It was more of the same mafioso themes Raekwon pioneered on Only Built 4 Cuban Linx, recorded half a lifetime ago in the heyday of his youth and of New York hip-hop. Fittingly for an artist nicknamed the Chef, the most striking lines related directly to food and chemistry: bullets dipped in cyanide, baby steaks, quinine, a foe labeled "Starburst, sweeter than fruit." Otherwise the artist was skating, letting his still-formidable mic presence cover for a set of images that were anodyne by the high standards he had set for himself in the mid-'90s.
If the song was representative of the album, one could expect little more than a firm effort from a graying lion: respectable enough, but not a cause for excitement. Yesterday, though, things started looking up: Rae released a remix to the single featuring his fellow Wu-Tang member, best friend, collaborator, and co-religionist Ghostface Killah. Sandwiched between Rae's old 16s, Ghostface's 24-bar salute refers to the legacy of excellence established by Wu-Tang while extending it further. Envisioning his funeral, he envisions his body in state and his soul getting great reviews: "Kangol tilted, angels is like, Ghost, he kill't it." The classic Ghost hallmarks are in evidence: coke dealing, violent threats, a trip down memory lane, and all of it rendered vivid by references to food.
Transforming language into an essence not just tangible but tasteful, food has long been a vital component of Ghost's much-vaunted narrative prowess, and the new verse scales the entire FDA pyramid with panache and gusto. A childhood memory is confirmed by the presence of Alpha-Bits cereal; an entry wound's diameter is likened to that of a mini-bagel; huevos (eggs, literally) are placed in a woman's mouth; the funeral catering includes Oreos; Eggo waffles become fodder for an ambush metaphor; and, in the scariest, most hilarious case of all, gun clips are compared to a Charleston Chew candy bar while the damage inflicted by the bullets therein is described as "strawberry shortcake, grape lemonade, and goo."
Poetically savage like Homer, colorfully delineated as a Looney Tune, Ghostface dispels the slight impression of aging left by Raekwon's original track. Time goes on, but artists, like friendships, can improve with it like fine Champagne, crafting images every bit the equal of their youthful productions. If you have to become one with an institution to stay on, at least you created it with your own hands: "Me and Ghost are an institution and I know the fans were calling for a remix, so this is what it comes to: Ironman Lunch Mix," the Chef stated to Billboard. It's true enough to say that death is inevitable. But it's no less accurate to claim — fact-checkers, call the angels — that Wu-Tang is forever.