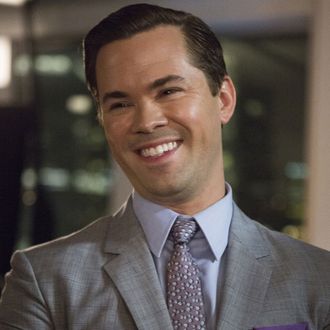 Anyone who has spent time in or around college a cappella groups, whether or not by choice, knows of their love of cover arrangements, specifically needlessly baroque ones of songs from the mid-'90s. On tonight's episode of Girls, Elijah talks about Facebook-stalking a guy who used to be in the Oberlin Obertones with him, who was cast as the male lead in Kinky Boots on Broadway. He complains, "He was so terrible at harmony that we had to arrange, like, ten '90s alt songs for him. It was a disaster." Hannah defends the group's cover of Third Eye Blind's "Semi-Charmed Life": "It's cozy!"
In and of itself, that would be a fun, specific little a cappella grace note in the episode, but then, later, we actually get to hear the "Semi-Charmed Life" cover in question. It's got everything you would hope for in an a cappella cover, including a slowed-down intro and far too much beat-boxing. In case a half-minute of music on the show was not nearly enough '90s-alt a cappella for you, you can listen to the full song online: HBO confirmed to Vulture that Girls used the version of "Semi-Charmed Life" the real-life Obertones put out in 2002 on an album called Stop/Review. Here it is in all its, um, coziness:
The same album also includes covers of "Under the Bridge," "Take on Me," and "Exit Music (for a Film)," because the Obertones really do have a thing for alt covers.