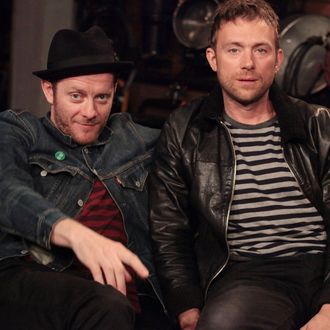 Let the album watch begin.
Photo: Astrid Stawiarz/Getty Images
Ever ones to make an animated entrance, Gorillaz have announced that their return to performing will also mark the launch of a brand-new festival — their own. Demon Dayz Festival is a one-day festival set to happen on June 10 at Dreamland amusement park in Margate, England, with Gorillaz headlining their first live show in seven years. More artists will be added, but likely none as digitally enhanced. (Barring, uh, any David Bowie holograms.) The announcement comes as we await a new Gorillaz album, which Damon Albarn has been quietly telling fans is "finished," having already teased it with a surprise anti-Trump song on Inauguration Eve. Finally, reason for Damon Albarn to muster up a half-smile.