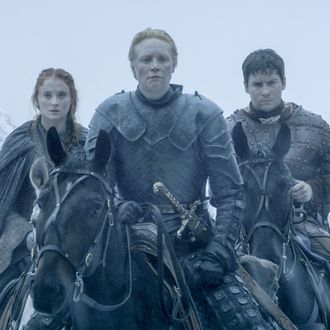 Melt the wall!
Photo: HBO
Because HBO currently has more Game of Thrones money than the Iron Bank of Braavos, the network decided to announce its season seven premiere date (that's July 16, by the way) via a Facebook Live video of a block of ice melting. The livestream drew more than a hundred-thousand viewers, despite being filled with numerous technical difficulties, and it turns out the people behind the show were just as baffled and embarrassed by the event as the rest of us. In an interview with The Daily Beast, Nikolaj Coster-Waldau revealed that he spoke to creators Dan Weiss and David Benioff about how weird the livestream was:
I spoke to Dan [Weiss] and David [Benioff] about that and they were like, "Oh god… That's embarrassing." Everyone was like, "What's going to happen?" "What's going to happen?!" "It's melting!" "It crashed!" "Oh my god!" It's like, just walk away… just walk away. It's just a date! You know, I was actually thinking, "Is there going to be a backlash and people will think, 'Fuck you guys for that!'" but that's really happened with every time the show kills off a major character: Never again! Fuck you! I'm never going to watch this show! and, you know, they keep coming back.
Next year, HBO will hire someone to spend half a day carving the premiere date of Game of Thrones into a wheat field, and we will all be fascinated.