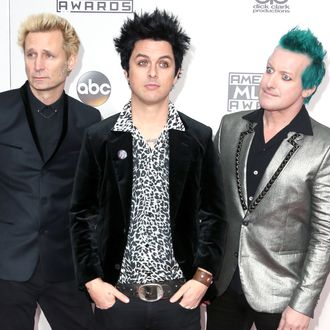 An American idiot, indeed.
Photo: Frederick M. Brown/Getty Images
Donald Trump's prolific Twitter account has long been a source of entertainment, irony, and symbolism for humanity's impending doom. And in 2010, all three of those qualities came neatly wrapped in one particularly foreshadowing tweet: Donald Trump once went to see Green Day's American Idiot on Broadway, and gave it a rave review.
This is a true fact that, of course, resurfaced during the presidential campaign season on Twitter.
Seven years later, and with Trump now in charge of the country's idiocy, Green Day can only look back and cringe at the unforeseeable horror that was to come. "That was a personal question that Billie was writing, 'I don't want to be an American Idiot' … By the way, [Trump] loved the [American Idiot] play," Green Day bassist Mike Dirnt tells Rolling Stone of that fateful night. "I'm like, 'What the fuck are you doing here opening night? That guy is at the opening of every envelope.'" And while the band stresses that its latest album, Revolution Radio, wasn't reactionary to Trump (it was mostly written and recorded before the election was in full swing), they still view it as a means to criticize his "freak show" of an administration.
Green Day's Billie Joe Armstrong also has a theory that millennials have a better chance at resisting Trump's power trip because they grew up watching how well that worked out for Voldemort. "I look at my kids as the Harry Potter Generation. There's a sense of justice about that, in beating Voldemort. It's a classic tale of good versus evil," he says. "To have a role model like Harry Potter that says you can defeat evil, but still be a complicated human being. That gives me a lot of hope." So if you're a twentysomething who still has their wand, maybe consider brushing up on your Unforgivable Curses.