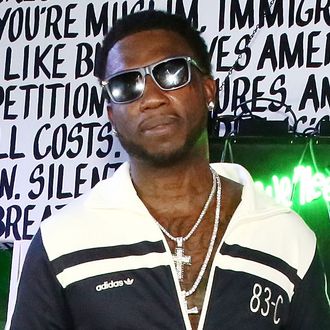 Gucci Mane.
Photo: Astrid Stawiarz/Getty Images for The Confidante
In 2015 Gucci Mane announced that he would soon release an autobiography, and Gucci Mane is no liar; he's a Trap God. Gucci announced that his autobiography, titled … wait for it … The Autobiography of Gucci Mane, will be released September 19 from Simon & Schuster. The 288-page book, which was co-written by Neil Martinez-Belkin, "takes us to his roots in Alabama, the streets of East Atlanta, the trap house, and the studio where he found his voice as a peerless rapper," according to the publisher's website. Gucci began writing his autobiography in a maximum-security federal prison, before being released, in May of 2016, "radically transformed." Check out the trapper turned author's Instagram below with a sneak peek of the book cover.
Full disclosure: New York Media has a four-book publishing deal with Simon & Schuster.