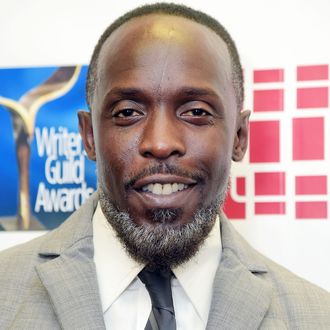 Photo: Michael Loccisano/Getty Images
Here's a thought: Star Wars' upcoming Han Solo stand-alone film will be the franchise's coolest. The origin story, which stars Alden Ehrenreich as the young Corellian smuggler, will also feature The Wire breakout Michael K. Williams, according to Variety. The trade magazine says Williams is in "final talks" to play a "key role" that is likely top secret. Williams missed the first cast photo, but he'll likely join Donald Glover (playing Lando Calrissian), Thandie Newton, Woody Harrelson (playing Han Solo's unnamed mentor), Phoebe Waller-Bridge (playing a CGI character?), and Emilia Clarke in the prequel. Williams's current gig is on ABC's When We Rise. Galaxy rogues, beware: When you come at the king, you best not miss.

Update, March 6: Disney has officially confirmed that Williams joined the cast of the film.